Wow. Finished product looks amazing. Thanks, Ars!
Here is an Elevator Action overlay. Many thanks to Mr. Do for providing the scans for this game. I put some effort into cleaning up the art and there are links to the marquee and bezel below: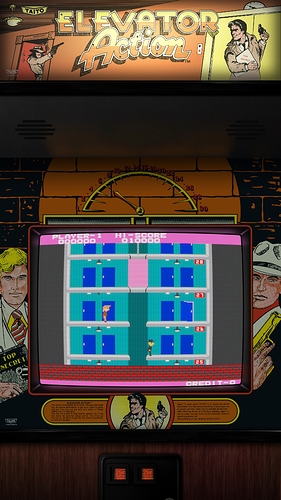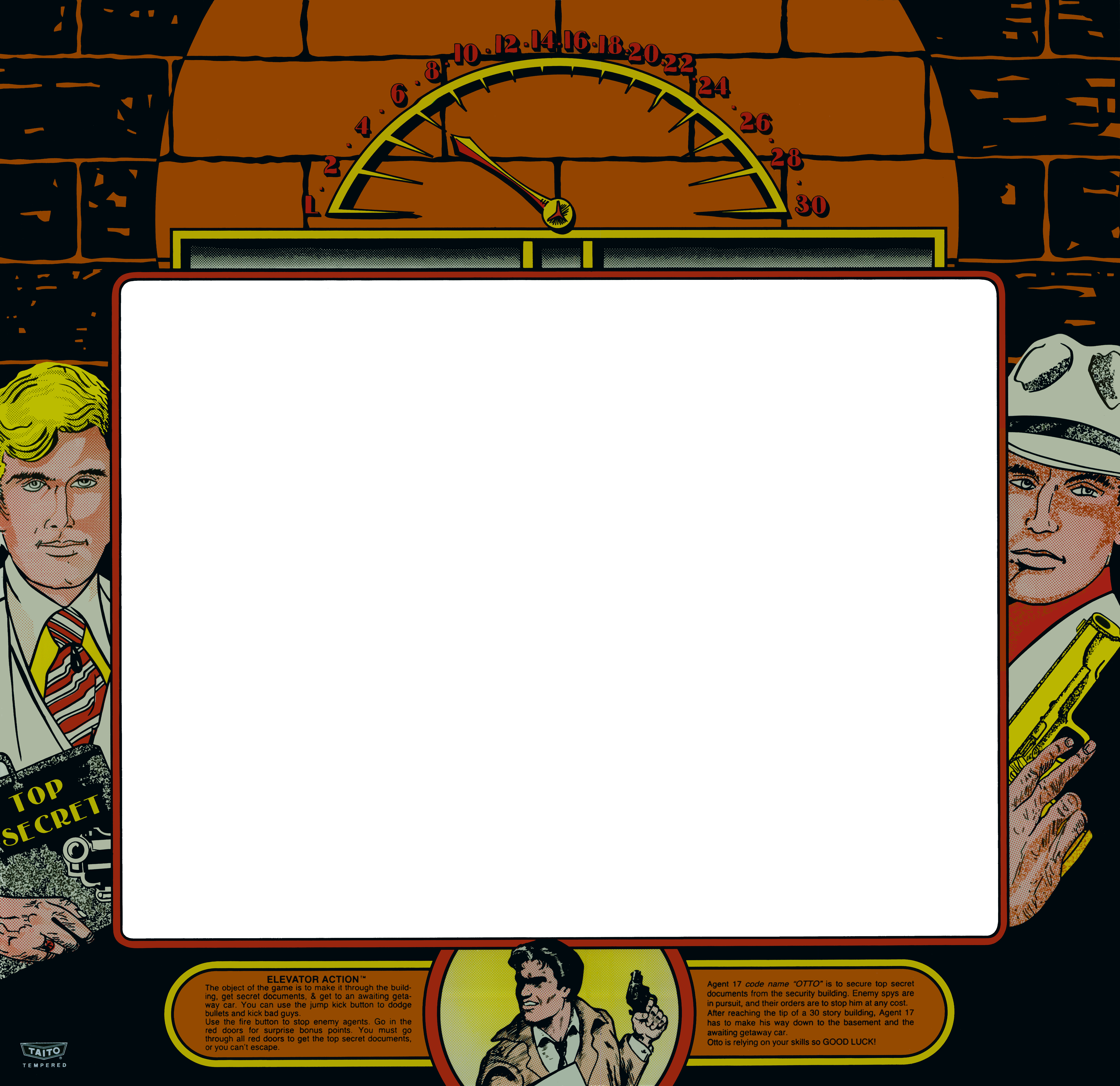 One of my least favorite cab artworks and you made it shine. Nice.
Love this game. Super work. Thanks!
I like the marquee well enough. But yeah the character art on this bezel is not so great. A lot of the bezel art from back then was kind of purposely simple in a good way and had a cool vibe. But this one, I don't think they quite pulled it off.
I'm into bright vivid artistic color selection when it comes to cab art as well. This cab just doesn't cut it. Sit brown and pss yellow isn't my favorite two tone color pallete.
1942 4K Vertical Overlay
This is the Williams version of the cabinet art, which looks pretty sick IMO. Many thanks to Raspbear on the Mameworld forums for providing the marquee and bezel I used here.
I've been experimenting with different approach for the marquee, and was again influenced here by photos of actual cabinets running with this artwork. The color tone seemed to be completely different with the backlight on.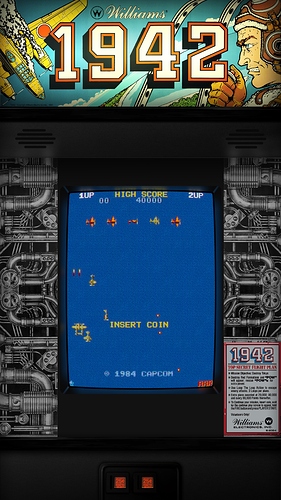 One more iteration on the Dragon Blaze overlay for now. I cleaned up (there were a lot of white specks) the official instruction card found on World of Arcades and put it at the bottom.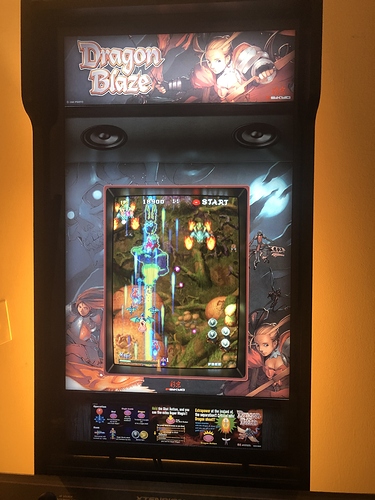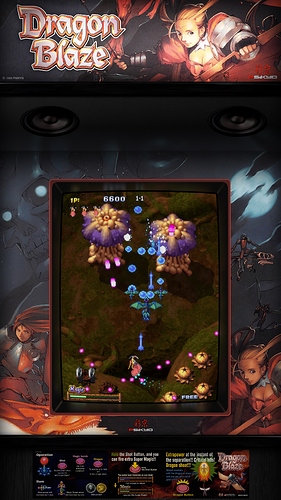 Card is here:

Updated Final Fight
Added coin door, removed old branding and tried a new marquee technique.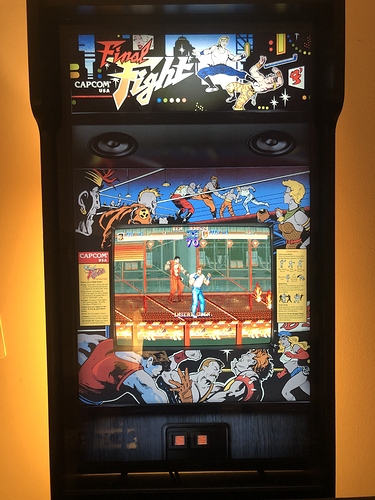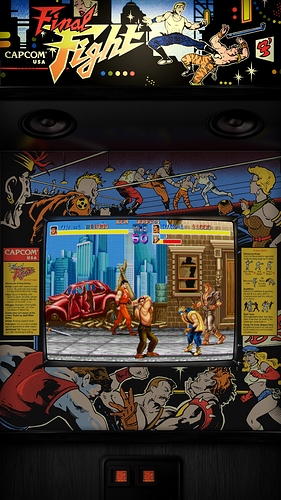 Large screen updated too: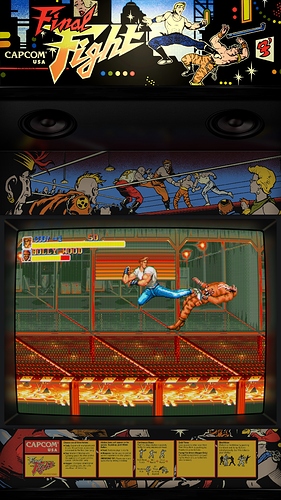 I was thinking to put together an overlay for Mushihimesama Futari and did a couple marquee designs but I haven't been able to come up with something I like for the bezel. In the meantime thought I could share the marquees in case someone wants to use them for their own overlay…


Updated Ghouls 'N Ghosts
Removed branding, added coin door, dimmed the bezel and reworked the marquee lighting: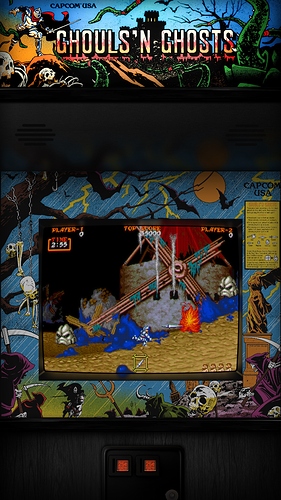 There is also an updated large screen version available.
Me likey! Eagerly awaiting upload of the full bezel version. That's a huge improvement in the marquee.
Thanks, glad you like the marquee! Up there now, along with some others I somehow missed copying

You must have used decent referrence photos because the marquee Is so close to the GNG cab photos I looked at it's not even funny. The sky turned out perfectomundo.
Bionic Commando
I guess there is a new limit on images requiring they be much less than the 4MB indicated max file size now (even less than 1MB?). So I'm posting from dropbox to continue to share at full resolution. Hopefully this works for people.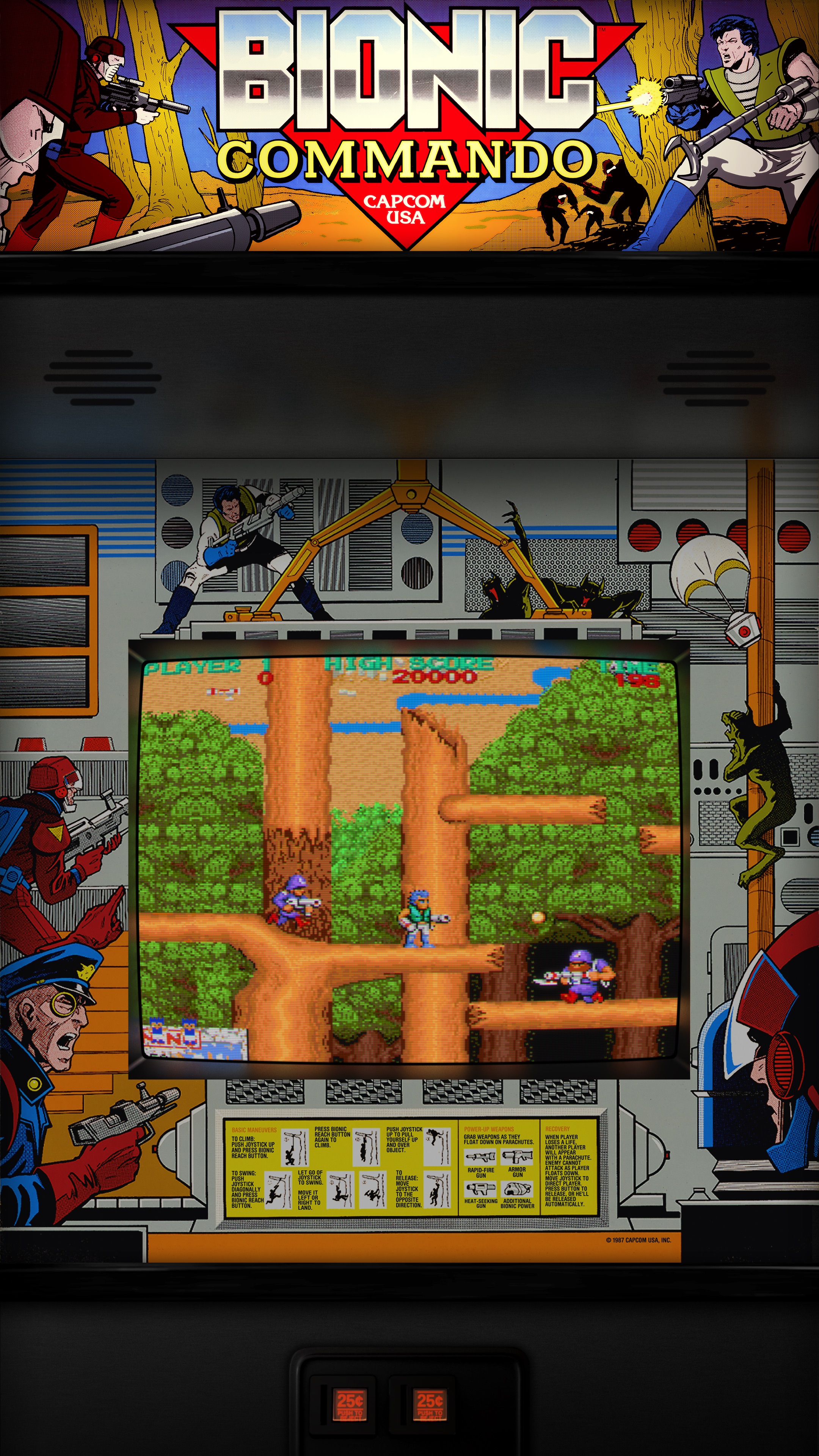 Awesome. You're on a roll! Wonderful work.
Just wanted to say I'm a big fan of your overlays, your contributions to the vertical cab art has been second to none - I'm a VFX artist I've been doing some myself for several months and finally build a vertical cab to play them on, currently customizing a coin-ops vertical image for my brother and working through console overlays when I saw you'd done these! really nice work - did you upload the nes and Dreamcast to share anywhere? I'm doing a Playstation and N64 too. very interested in sharing my layouts/art and building up/adding to a central resource for these so will get in touch when i have some 'spare' time in the next few weeks.
thanks again for the invaluable effort!!
Hey @PapaShine, welcome to the forum

That's great! If you do this kind of work professionally I can probably learn from you. I'm still learning new techniques and refining my workflow all the time. Feel free to message me if you want to chat about projects and how to share.
@Briball has started putting together a master list of overlays from different creators, but we don't have a central repo of any kind yet.
I put the dreamcast and NES files out on my share. I somehow forget that step sometimes, sigh.
https://www.dropbox.com/sh/3xyel02qnchso21/AACNm4h5ysXDkuI9ROUKvIr-a?dl=0
Re: Dragon Blaze…
Beautiful cabinet. But – I cannot for the life of me figure out how to map the controls on this one. TAB key does not access MAME control panel as usual.
Anyone know how to bring up the MAME control panel for this game? Would love to play it! Fantastic graphic work by Ars, as usual.