What's Zoom Viewport?
Can you point me to it?
Sorry I meant, Viewport Zoom.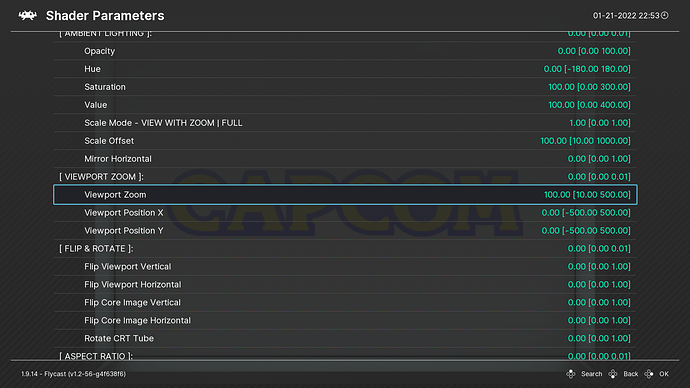 Don't waste your time, you'll see the same thing happening. What I would say at this point is that the Integer Scale Mode setting is doing what it's supposed to. I enabled it to solve just the types of issues you're having with it off and especially with particularly tricky high-res Dreamcast games like these and the like.
So at this point, there might be a viable alternative solution out there. Perhaps you can try the CRT-Guest-Advanced shader and see if you can port my settings over to it since you don't seem to need the HSM Mega Bezel Reflection Shader features which is really what my shader preset is about.
It should actually be pretty easy to achieve a similar if not identical image as all of the mask, scanline and sharpening settings come from CRT-Guest-Advanced.
Besides that, you can even try resetting all of the scanline settings to defaults and that might actually solve your issues when using non-integer scale. It may not end up looking identical but it might be still be close and you might actually like the result.
Take a look at my 4K Optimized CyberLab__Computer-Monitor-Sharp__ADV.slangp as well as my 1080p Optimized CyberLab__Computer-Monitor-Sharp__1080p__ADV.slangp preset. The 4K Optimized version produces a very interesting effect even when run in 1080p mode!
I tried the composite sharp using the settings that HSM provided and it looked absolutely perfect.

Any screenshot I do looks terrible though. I think it may have something to do with the deconvergence.
OK, I did see that option now. I was looking in the wrong 'Settings'. Was thinking Core settings when I went looking originally. Disabled 'Allow Rotation' and then went back into FBNeo and turned 'Vertical Mode Enabled' back to off, and it remained in a vertical mode, so still good. Thank you for finding that info @Cyber
I may have to look into a Raiden Fighters themed background to replace the Carbon one though. Got my mind spinning with ideas!
No kidding! Shmups are probably my favorite genre. I really should look into a rotating stand for this 42" just for that.
You can still share. Once viewed fullscreen at the original resolution it should look the same as in game.
Did you test at 1080p as well?
I'm glad to hear the words composite sharp and perfect being used in the same sentence! Lol
I remember when I first asked you for some feedback on my earlier presets and I couldn't even notice the loss of detail caused by my use of rolling scanlines that you gently brought to my attention.
I don't know how to port them. I do want the HSM features, but I just want to maximize the screen space. As you can see in my screenshots, I'm even keeping the reflections on the sides.
How can I do that?
Well scroll through from the bottom of the Shader Parameters and you'll see the Scanlines settings with the Scanline Type – gsl e.t.c., just press the Start button or Enter key on the keyboard on each of them to reset them to default.
It uses the same CRT-GUEST-ADVANCE Shader so you just have to use Guest Advance and set the same parameters.
Well, we can't always have it all or as they say have our cake and eat it. Compromises will have to be made somewhere and something's gotta give.
No matter what you do, you're sacrificing something, especially in your quest to maximize screen real estate. Can't you instead just enjoy the presets and the bezel and maybe sit a little closer to the screen?
Or better yet, sell your curved monitor and use the proceeds to get a setup that supports rotation?
There are several ways to accomplish what I think you're looking for. Maybe it's time to think outside of the box?
I get that part but how do I know what their default values are?
So after applying CRT-GUEST-ADVANCE, should I go to the shader parameters? But then how do I know which values I need to change? There are so many parameters in it.
What I meant to say is that I have no issue with the frame or reflections. But it's not like I absolutely want them. If I need to sacrifice them for what I want then it's fine.
I only have a 1080p flat monitor, I'm already sitting too close to it and the image is still too small for my liking. If I had a bigger monitor then perhaps it would have been okay.
Pressing Start or Enter is how settings are reset to default in RetroArch. You press the key or button and it resets to the default value. You don't have to enter the value.
You would need to note the parameters in my presets maybe by using screenshots or a video. Then load up CRT-GUEST-ADVANCE and enter each one that matches and try to figure out or use defaults for the rest.
I understood that but as you realize when you change one setting something else stops looking right, eventually if you start changing scanline and other settings to get rid of your artifacts the preset isn't going to look or be the same anymore, thus you have compromised. Having the top and bottom bezels cut off, while the sides are still intact is another form of compromise. Having to use crt-guest-advance instead of HSM Mega Bezel Reflection Shader may or may not be another compromise…all potentially made in order for you to get more screen real estate.
Is it already rotated (i.e. in portrait mode)? If not maybe a vesa stand that offers rotation might be a viable solution.
Something like this:
Single Monitor Stand Freestanding 27-43 Inch Monitor Arm Curved Screen Monitor Mount Tempered Glass Base Adjustable Motion Tilt -15° to 10° Swivel ±45° Rotation 360° Weight Capacity 77lbs HT05B-003 https://www.amazon.com/dp/B08YNL8Y4P/ref=cm_sw_r_awdo_navT_g_JJEXMKGKBFCM2XGRH877
Single LCD Computer Monitor Free-Standing Desk Stand Riser for 13 inch to 32 inch Screen with Swivel, Height Adjustable, Rotation, Holds One (1) Screen up to 77Lbs(HT05B-001) https://www.amazon.com/dp/B07Q79ZZJ6/ref=cm_sw_r_awdo_navT_g_348PSEEQP83SMMQ72TDH
Maybe it's time to hook the PC up to the TV in the living room.
It turned out to be the Space Bar key, because whenever I pressed Enter on a parameter it opened a sub-menu with different values.
I just tried resetting all the scanline parameters, but still the same thing, too much brightness.
Ok I'll try that.
No it's in Landscape. Those kind of stands are not available where I live. Though I don't understand how a Portrait setting would help.
Enter Key = Start Button on my setups.
I didn't give you that tip to assist with too much brightness. I had already mentioned that you could lower the Post CRT Brightness for that. I suggested resetting the scanline settings as something to try that might minimize the appearance of scanline anomalies when using non-integer scale.
It would give you a much larger viewable area when playing vertical games compared to rotating a portrait image to fit a landscape screen with the long side of the image being displayed on and limited by the short side of the screen. Having your entire screen in portrait mode allows the long side of vertical games to use the full long side of the display and the short side to utilize all the width the screen has to offer.
Amazon.com does international shipping. There are also mail forwarding companies in some countries and if it comes to it, perhaps someone can purchase it for you maybe during a trip and bring one for you or someone can buy it then ship it to you.
Portrait Mode on a monitor slaps so hard for vertical games, makes you not want to play them in landscape mode again that's for sure

.
I still find this strange. When viewing on my cell phone which has a 1080 x 2400 screen, even if I keep my phone in portrait mode and tap the picture a couple times it zooms into what I suspect may be the original size and the image looks great. On my 4K 55" TV screen the image at fullscreen looks great too. I can't really notice any difference between it and the screen during gameplay, at least I can't remember there being a difference. For me the problem comes in when the image is viewed at anything less than original size.
It looks pretty good uploaded to the forum, but totally trash on my PC.
I might add that my experience described above used integer scale mode 1. I haven't looked at the image you shared fullscreen on a PC though, only on my cellphone. In the first part of my statement I was referring to the image you shared, while in the second part, I was referring to my experience with my settings which include integer scale mode 1. So really not an apples to apples comparison.
For a moment I was mixing up what you wanted to achieve with @Exception there. My bad.
The pack is amazing quality, i know this is going to be a simple question… but how do i add in other bezel themes into the preset, i downloaded some from duimon, and wish to change backgrounds to be themed.
If i just load a preset from the themes they replace this amazing shader pack.
Thanks
Greetings and welcome to Libretro forums @blinkerz!
I'm glad you like my shader presets and the awesome and infallible HSM Mega Bezel Reflection Shader! If you would like to combine them with @Duimon's excellent work @hgoda90 has got you covered with some setup instructions. You can let us know if you need further assistance.
Be careful using fancy quotes, use standard, straight quotation marks instead.