Non verified signature files of this kind of origin could trigger this stuff sometimes
I'm a little confused here but it seems that the virus issue had to do with this link in this post?
That was what I thought first and what the reply from me was about. I deleted my reply, when people started talking about other downloads. I will revoke the deletion. In short, it seems like a false alarm.
i think this is kind of a late question, but i would really like to know, what are the differences between aperture grille and slot mask? and in which kind of tv comes the slot mask from
Yes, sorry for the confusion, I am referring to the page that hosts the images.
Slot mask, Aperture Grille, and Shadow Mask, is the way CRT had the RGB triads to make RGB color for the pixels of the game.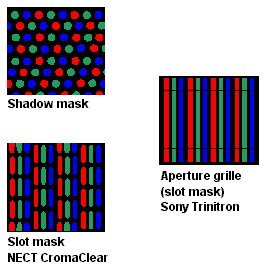 I have a CRT 14" Sanyo that uses slot mask… Sony trinitron had aperture grille. And shadow mask I don't really know because I think it was the less common or at least myself didn't know much about it or it wasn't that popular.
@Theoldnation Sorry for late reply, been a little busy pass few days. But to add to the discussion I believe Shadow Mask crts started phasing out by the late 80's/ early 90's.
Imo I think Shadow Mask is the best to use for consoles around that time as well like nes, master system, snes, turbo grapx, genesis etc. Ever since I released my current pack I put all 3 mask types to use for different generations of consoles. Shadow Mask for the above mentioned, Aperture Grille for the 32-64-128 bit systems and Slot Mask for everything arcade.
Yeah i had noticed in the past few days, that apparently, shadow masks looks better for the 2d games console era, and the 3d content looks better on aperture grille, is kinda interesting to have in consideration this fact, as aperture grille already existed at the end of the 60s but the trinitrons tvs were quite expensive and were sony exclusive, i can see clearly that many of the games developed until the 90s were more think for shadow mask than the latter
Hope you're doing good bro been a while!
Does anyone has a comparative between scalefx and normal presets?
Sorry, sorry lol. I've been a little busier than usual, everything is good though thank you for checking up on me.
As far as the update I've still been working on it, all presets are pretty much done. I may do one more small tweak later when I get home and then I'll be putting it out. Things took a bit longer than expected but I hope to get this pack out by tonight the earliest or tomorrow the latest.
I don't think there's any comparison shots. To tell the truth the difference is minimal with scalefx, you can definitely see smoothing in certain areas but it doesn't smooth everything out full scale. It's still good to keep around I guess.
Welcome back buddy : D
No worries about the update as long as you're doing great, it'll be ready when it's ready!
I appreciate it. As far as the update I got it exactly the way I want it, I toned down the contrast by a lot even more so than the test pack I recently uploaded but still kept the image vibrant and colorful especially on the rgb and svideo presets. I think you guys are gonna love it so I can't wait to get this update out myself.
i'll be waiting for it till the very end
Hi sonkun, take your time, there is no need to hurry. I'm waiting for the update too and test them sometimes even if I don't respond here.

Curious to the new changes.
Hey man, i hope you're doing good, i just wanna tell you that thanks for everything, and i had just convinced two of my friends with different res screens and setups to use your cool presets using all masks between consoles, they choose your presets over the other options i had for them, i hope you have a good day
Oh wow this is nice, I guess my presets are really out there in the wild now. I'm about to upload my newest shader pack soon and get rid of the current one and I see it's gotten over 1000 downloads on my MediaFire account so it's definitely been making its rounds.
Time for you to stop being lazy lol. Yeah things changed a bit since you wrote that article, it's still a nice read and it's still a good introduction to my presets and for that I'm forever thankful.
Hey there it's been a while and I'm back now with good news too, the new pack is done and I'm getting ready to upload it soon so I hope you tell your friends to try out my latest pack. I think it looks better than the current one but I'll let you guys decide that. Look forward to it.
New Version Release (05-03-2023)
Changes Made
Uses guest.r's latest shader update version (2023-07-11-r1)

Tweaked Contrast, gamma and brightness settings in the Grade shader for all presets. In the previous pack the contrast was too much, I lowered it down for this release but still kept the overall image colorful vivid and bright.

Small tweaks to the glow and deconvergence settings.
Grab the lateset pack in the first post.
Hope you guys like the new look.
This is super exciting to wake up to

Thanks a ton Sonkun!
I just recently finished Metal Gear Solid using Cyber's presets and was going to finish Advance Wars but held off waiting to use your newest presets, I like to alternate and sometimes you'd want to change using a Bugatti and cruise with your Lamborghini Urus, two cars I'll never have but you just know they're at the peak of engineering quality if it makes sense


Thanks for your continuous hard work and contributions!