New Location
The latest version of this app can be found in the Tools and Scripts forum in this thread: Simple Arcade Multifilter - app for MAME and FB Alpha ROM sets
Simple MAME Category Sorter uses a two-step process. Step 1 requires:
A collection of MAME ROMs supported by RetroArch
A MAME XML DAT file corresponding to the ROM collection
A MAME catver.ini file corresponding to the ROM collection (other version catver.ini files may work too)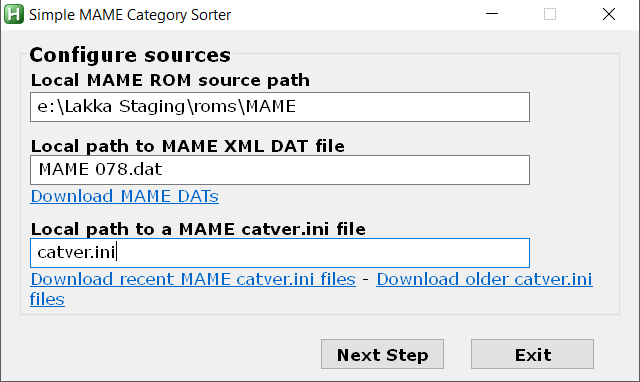 Step 2: Filters
Unlike ROMLister, the Simple MAME Category Sorter does not know anything about the controller configuration of a game. Another major difference is that the selection boxes and manual filters provide only "OR" search queries (on the left) and "NOT" queries (on the right). There is no provision for "AND" filtering.
Three other filters may be applied after the category filter:
Bundle BIOS files into the query (as indicated by the DAT, not catver.ini)
Exclude clones as indicated in the DAT
Exclude anything that is tagged Mature (necessary since games are tagged with multiple categories)
One thing it does understand is how to copy files, probably the only built-in feature this tool has that ROMLister lacks.