Hello,
I've been building a prototype netplay lobby viewer to solve some shortcomings and limitations present in both the application and web versions. It adds passworded room filtering, core/platform room filtering, non-connectable room filtering, more intuitive room sorting and pings.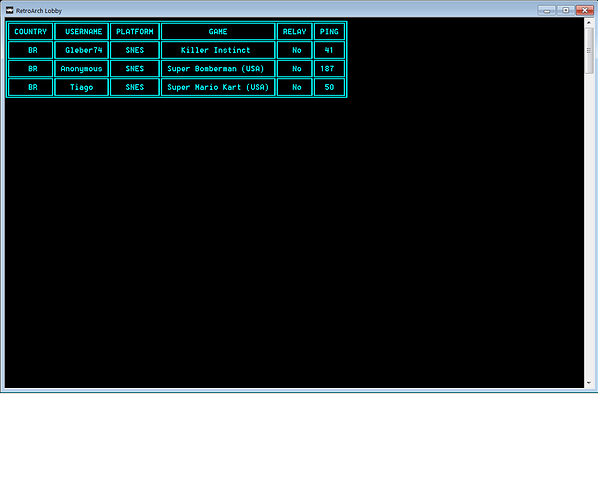 Right now the prototype is just a console application printing the available rooms formatted to an unicode table.
I was researching into launching RetroArch directly from this viewer whenever the user wanted to join a room, coming across the -C/–connect and -L/–libretro options. Unfortunately, they don't work; RetroArch always displays a "Failed to initialize netplay" message and no packet is ever sent to the host. Launching RetroArch with just the -C/–connect option and then loading the content manually works and so does -H/–host combined with -L/–libretro.
A look at the source code for the options -C/–connect and -L/–libretro didn't show anything wrong (or at least obviously wrong).
Any ideas? This appears to be an initialization priority issue, but that wouldn't explain why -H/–host works with -L/–libretro.
Thank you.