I'm not noticing any frame drops, the scrolling is smooth also, but I noticed the CPU usage in windowed mode is basically the same as my idled PC and when in full screen it goes as high as 30%, surely it differs from core to core, the only ones I tested were FBA NEO and GenesisPlus GX with the same results in both GlCore and GL. Since I couldn't figure out how to capture the CPU stats overlay in full screen, I took it as fast as I could as soon as I exited full screen, the second capture shows how much CPU it uses in windowed mode. I'm sure it affects heavier cores, so I'd like to know what is causing these peaks. Interesting when I activate fast forward in full screen the CPU usage drops below 10% and I see the GPU around 3 to 4%. Note that in this case I capped the fast forward to 3X.
I'm on Windows 10 1903
I7 2600 3.8GHZ
GTX1660ti 6GB
10GB RAM
Retroarch 1.8.2 (late December build)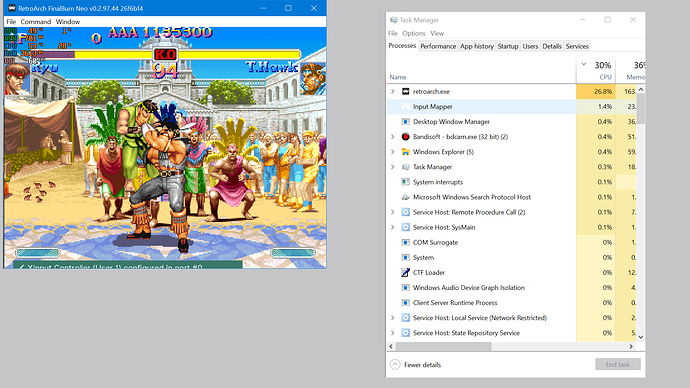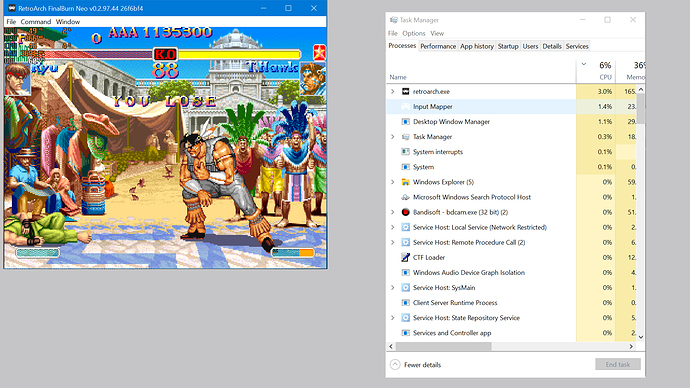 Can anyone try to replicate this and see if RA uses much more CPU in full screen?