In 2D games. GL is noticeably faster than Vulkan. Tested with Genesis Plux and Shader Mattias (which is quite demanding for the card)
GL - 20 fps.
Glcore - 20 Very similar to GL.
Vulkan - 5 fps.
In 3D games, Glcore does not show video.
A Daytona test with Flycast in HD 1920x1440.
GL - 59 approximate FPS, with mild jumps.
Vulkan - 60 FPS completely fluid.
In 4K, 3840x2880m on the same HD monitor.
GL - 55 FPS approximate with strong frame jumps, but keeps the speed.
Vulkan - 30 fps, goes as in slow motion.
In 3D and HD, Vulkan is totally fluid, but it has graphic errors. The polygons are transferred, the shadows are lost and leaves on the screen brands.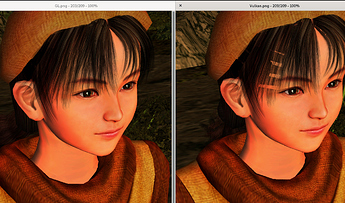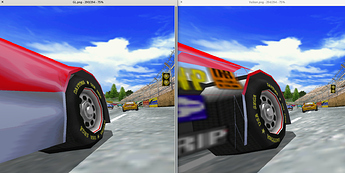 Even, Changing Alpha Sorting.


It seems to me that this happens from version 1.9.2. Because before the Drive GL was much slower, I could not put it higher than 720.
I already did the Glcore Report here, and makes GL and Vulkan here. Apparently this is the blame of the video driver, updated the drive "PPA mesa" and the error persists.
I have Ubuntu 20.04 LTS with a CoreI7 and the Intel® HD Graphics 4000 (IVB GT2) with the Open Source driver. I am aware that it is an old machine, but I would like to know if it is my machine or is an error.
This is the information of OpenGL and Vulkan (The info is much longer, just copy the first.) :
[email protected]:~$ glxinfo | grep 'version'
server glx version string: 1.4
client glx version string: 1.4
GLX version: 1.4
    Max core profile version: 4.2
    Max compat profile version: 3.0
    Max GLES1 profile version: 1.1
    Max GLES[23] profile version: 3.0
OpenGL core profile version string: 4.2 (Core Profile) Mesa 21.0.3
OpenGL core profile shading language version string: 4.20
OpenGL version string: 3.0 Mesa 21.0.3
OpenGL shading language version string: 1.30
OpenGL ES profile version string: OpenGL ES 3.0 Mesa 21.0.3
OpenGL ES profile shading language version string: OpenGL ES GLSL ES 3.00
[email protected]:~$ vulkaninfo
ERROR: [Loader Message] Code 0 : /usr/lib/i386-linux-gnu/libvulkan_lvp.so: wrong ELF class: ELFCLASS32
ERROR: [Loader Message] Code 0 : /usr/lib/i386-linux-gnu/libvulkan_radeon.so: wrong ELF class: ELFCLASS32
ERROR: [Loader Message] Code 0 : /usr/lib/i386-linux-gnu/libvulkan_intel.so: wrong ELF class: ELFCLASS32
MESA-INTEL: warning: Ivy Bridge Vulkan support is incomplete
WARNING: lavapipe is not a conformant vulkan implementation, testing use only.
==========
VULKANINFO
==========

Vulkan Instance Version: 1.2.131