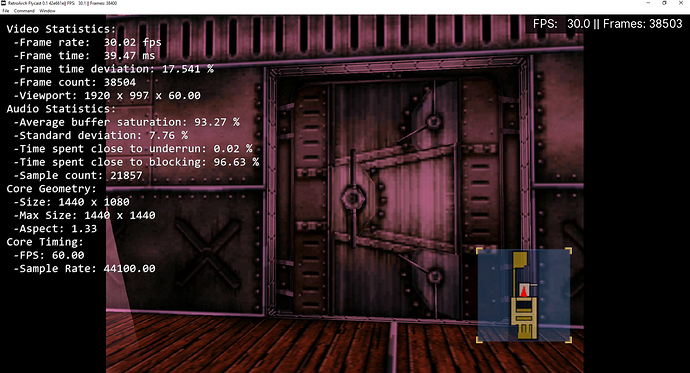 Hey. I've had this happen to me since as far as I can remember but never found a solution. This happens with any 30fps game regardless of emulator, which leads to extreme ammounts of judder as I pan the camera. I get the same judder in emulators outside retroarch. My guess is that I'm getting terrible frame deviation on those emulators as well, although I don't know how to check. I took this screenshot and noticed the frame time jump around between about 29ms to 43ms extremely fast.
I only found one solution and that was to set the Vsync Swap Interval to 2. Like the description says, it effectively halves the refresh rate to 30 and I could finally get a deviation of 0.8% and a stable 33ms frame time.
Is this normal behaviour or could there be something wrong with my system? This isn't a retroarch specific problem but it's the only program where I can find a workaround to playing 30fps games without judder - the vsync swap interval.
Using retroarch --verbose --menu, I got a result of 59.998800 Hz 3.007 % frame time deviation which already looks excessive.
I've used DDU to uninstall the drivers and reinstall them. Settings are all default. I have an Nvidia 970, running Windows 10 1803. Any help would be greatly appreciated.