So I'm trying to play the PAL release of MGS VR Missions, called Special Missions in PAL regions, using the Beetle-PSX core. However, the PAL release has an irritating requirement for you to boot in to the VR disc, wait for it to start, insert MGS disc 1 or 2, wait for it to be recognised and then re-insert the VR disc. No matter, I have all three discs in an M3U file and they show up in the disc index. The problem is, the VR disc remains stuck on the disc swap screen even after inserting MGS disc 1 or 2. Anyone have any ideas?
INFO: I'm using a real PSX BIOS and Retroarch is running on Windows 10. All of my disc dumps are verified on redump.
Here's the disc swap screen I'm stuck on.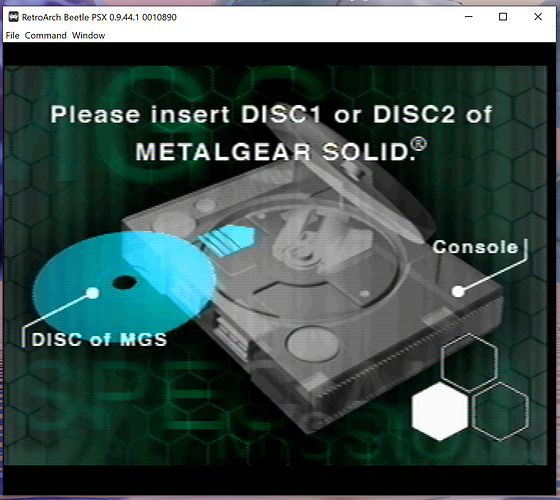 Here's the disc index, showing MGS disc 1 (inserted), disc 2 and the VR/Special Missions disc.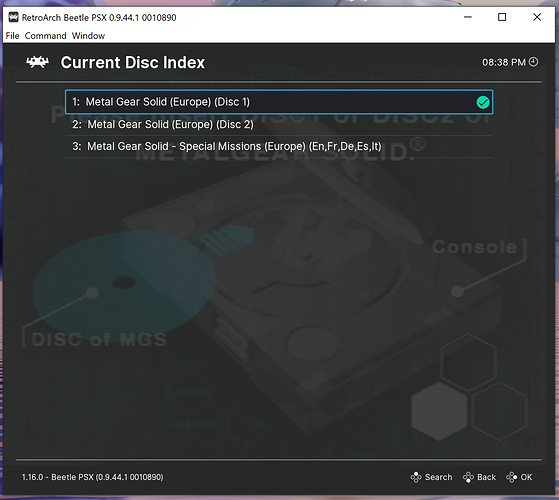 EDIT: Probably unrelated, but I can still hear the last second or so of the BIOS boot sound looping in the background of this screen. This is a problem I have in general on the Beetle PSX core but that's another topic.