Christmas eras is inevitable that come to me an avalanche of memories. The strongest is from Sega Genesis, the euphoria that made me feel even today, I get excited.
A memory that I have tried to recover was my first game, not the first one that touched, the first one I played for a long period of time.
This a little undecided, I do not know if it was the Karateka of 1984 in Apple II, the holidays spent them with my father (they are divorced) and he had a data-center, I calculate that they would be about two months.

Or… Tron: Deadly Disc 1982 in an IntelliVision, my cousin's dad had one and when I finally learned it to play, I was her best friend

He also adored the movie.

The one that I am sure was the first era, Fire de Game & Watch, although I do not consider it the first because I did not really care about that format.

My first console was a Atari 2600 clone with many games in memory, I do not remember how many.
It was for the year 1988/99, and the Nintendo NES was fashionable, but my parents thought it was better because I had more games. When I made an adult I understood that it was because it cost half. The first moment I was disappointed, but then I played infinity number of hours.
In that console, my first game bought me. It was this wonder, maybe the most advanced game of the 2600, and I chose it only by seeing the covers

Robot Tank
I could never have a genesis, despite that's the console that I've played the most, sometimes they lent me, other times (most) went to a game center that was from a friend and spent half of my life. Those centers were like a cyber but with consoles and not so luxurious, where we piled up as pigs to give us … love? (As in the photo but not so luxurious:)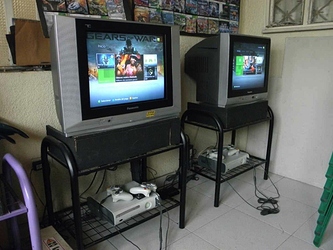 Then, in 1998 you see some intention to buy it, but it was already an old thing, it was emulated and I had bought my first Pentium III pc, besides, I always preferred the arcade.
By the way, at that time I never played by S-Video, no component, everything was the RF cable.
And this is all, for now, it was a wonderful time full of new things…
All this paraphernalia to thank all the RetroArch team and its beautiful community, and wish you a happy new year! I hope that this year is full of wonderful things.
Remember your first game? What was your first console?
P.S.: This year I'm going to bring you some gifts to the Dreamcast community, one of my favorite consoles that I never had