The core can't but the shader can. In the release version it is the "Scanline Direction Multiplier" parameter.
I totally didnt know that the mega bezel can downscale to 240p, in that multiplier what do i need to tweak to make that possible? Thanks a lot Duimon.
the 4K pvm is the modified one with scanline 1 in 8 and scanline in 10 if i recall
Im using snes9x current i think thats the name, damn man i think we neeed a wiki for the recommended cores and maybe options but that could be a very tedious work.
Your welcome. I named the parameter earlier, it depends on the amount of internal res scaling. Keep in mind that the release shader will crash RA at internal res higher than 2X unless the root reference preset is an HD preset.
BTW i noticed a small greenish look in your latest 1080p sharp pvm preset vs the 1080p arcade sharp pvm, i dont know if it can be fixed, or maybe my eyes are failing me, lol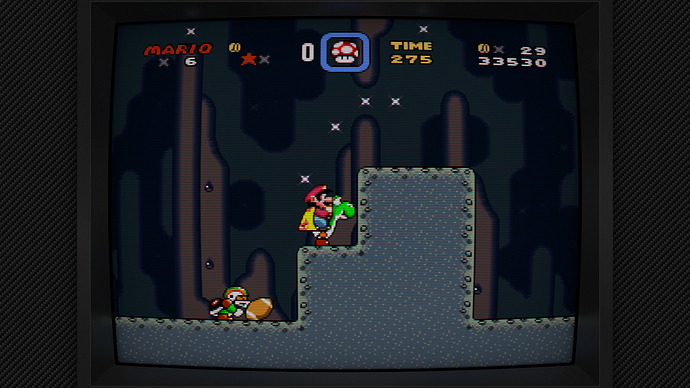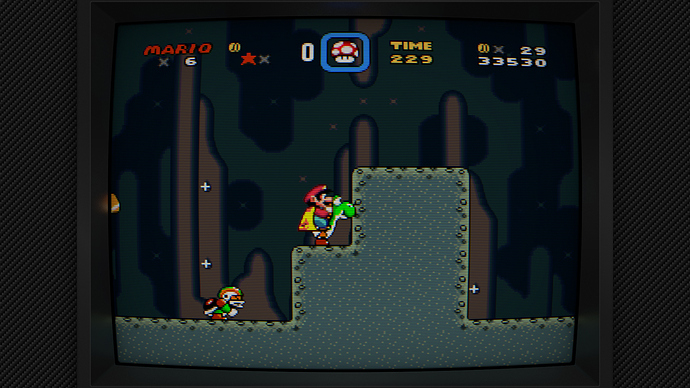 The solution to that is to use the Arcade - Sharp PVM Edition for Arcade Games and the RGB - Sharp PVM Edition for console games if you want a similarly sharp look. I use Composite - Sharp PVM Edition for console games.
There's a lot of information in the readme.txt file and also the first post including recommendations based on how I use the presets so that users can have a similar experience.
That change in colour temperature, tint and white balance in the Arcade - Sharp PVM Edition preset is expected behaviour. RGB - Sharp PVM Edition is a good alternative.
This explains why the screenshots look so close.
Sorry, I meant that I use Beetle PSX HW's SSAA (super sampled anti aliasing) with an increased internal resolution.
I like the pvm sharp edition look the most, but maybe i didnt ask right my question, is there a way to have that greenish tint gone in that preset? The arcade sharp pvm edition i think has the right color looking at the gray part of that SMW screenshot
There is no pvm sharp edition preset. Are you referring to my RGB - Sharp 1080p PVM Edition preset?
The main difference between my RGB - Sharp 1080p PVM Edition presets and my Arcade - Sharp 1080p PVM Edition presets is that the RGB - Sharp 1080p PVM Edition uses the NTSC-U phosphor colour gamut while the Arcade - Sharp 1080p PVM Edition uses the NTSC-J phosphor colour gamut. This is all intentional and as a secondary benefit, allows the preset pack to have some additional variety to cater to a wider range of tastes and scenarios. So you can use the one without the greenish tint or whichever one has the "right" looking colours to you.
If you're feeling adventurous you can simply modify the CRT Phosphor Gamut setting to suit your taste but that would be like reinventing the wheel if that's the only thing preventing you from using the RGB - Sharp 1080p PVM Edition over the Arcade - Sharp 1080p PVM Edition because they are more or less identical other than that setting.
You can let me know if that makes sense as a solution to this particular issue. If not, we'll see what else can be done.
To be a little clearer and to avoid confusion can you use the full names of the presets and maybe label the two screenshots you posted above, showing clearly which preset you used for which screenshot and which one has the greenish tint that you're referring to?
Whenever I see these, I think I might have to post them!
That´s a post i made yesterday in reddit crtgaming, check what some people thinks about in what
#crttv
# im playing this,i haven´t said that it´s the HSM Mega Bezel with your RGB Sharp PVM 1080p preset on an Optoma 1080p LCD Projector, what you see is the projector screen that isnt very tight so some kind of waves can be seen through the video.
Wow! This is flattering! I see you're finding many different ways to have some fun with my CRT Shader presets!! Lol.
I'm no expert but I know what looks I'm trying to get based on what looks and feels good to me now and also based on how I remember things to be. My approach also involves trying to use these shaders to reverse engineer the different effects they have on the pixels to make wonderful looking images and legible text. I've kept reading over and over again that memory is unreliable but that is such a sweeping generalization that assumes thay every person falls into an "average" and all memories within a single person can be equally weighted. Memories shouldn't be discredited and doubted. They can be reinforced and refined. There are techniques and abilities that people might use on themselves through their own thought processes that wider science has yet to discover.
I don't like when people put silly limits on an individual's ability and talent by making the assumption that everyone of us lies somewhere in some predefined range so this can't happen or that's not possible so don't waste your time.
I haven't looked at a switched on CRT in a very long time and I don't use any CRT as reference.
This is a great way to celebrate 3,000+ views and hundreds of downloads in 3 weeks of this thread going live!
I'm going to change the Int. Scale Mode setting from 0 to 1 in my 1080p PVM Edition presets in an upcoming update, most likely the next. This is because I noticed some uneven scanline artifacts in a few popular games on my Toshiba Regza 40" TV. Setting Int. Scale Mode to 1 resolved this and increased my viewable playing area which is a good side effect on a smaller screen. So be sure to look out for any negative effects in other games as a result.
I´ll sure be checking your updates, thanks a lot for @HyperspaceMadness @Duimon and your work, to make us enjoy games like sometime we did in the good ol´ times.
You're most welcome! I thank you for your feedback because people who value and aim for perfection like yourself can assist in pushing things far and beyond a developer's original goals and intentions!
By the way, how's the input lag on that projector? Also out of curiosity, how did you get rid of the Bezel and Reflections in that video?
I'm now noticing the bezel and reflections.
In this case, I'd have to thank @Tromzy and @TheNamec for inspiring me to make 1440p and 1080p optimized versions of my presets and my eventual PVM Edition series if I recall correctly.
They didn't directly suggest that I create them but their feedback made me test my presets at the resolutions that they were using and I then went about trying to make versions that would match what I was experiencing on a 4K screen for users with lower resolution displays.
Im using RA run ahead so i cant see any lag that bothers me at least.
BTW seeing old games with that kind of quality on a 120 inch screen is something else
Just posted the newest update with this change @Digitech. Scanlines as well as viewable image area should improve out of the box. You can let me know how it works for you.
Ill check it ASAP, thanks man! You mention an improve in scanlines, whats the differences? Cant wait to know, lol.
The difference should mainly be noticeable in games that use resolutions which interfere with the spacing of the scanlines causing the appearance of bands of uneven scanlines. A good example of this is AirZonk for TurboGrafx-16. For many games, if not most, you shouldn't see any noticeable difference.
Sounds like a very reasonable upgrade to me, thanks man!