Hello, I want to share my GameBoy overlay.
I made it for my 5,2 inch screen (1080p), so I don't know if it works well on other screen sizes and resolutions. Maybe you need to tweak your RetroArch video settings.
As you can see from the pictures my overlay is for portrait mode only.
I am not the author of the picture, I just edited it a bit.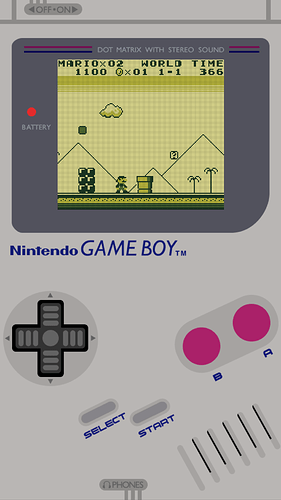 Tap on "BATTERY" to show the position of hidden buttons, tap "GUIDE OFF" to hide them: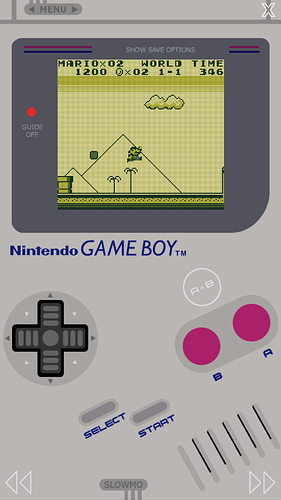 Tap the center of the screen for a screenshot. Tap "SHOW SAVE OPTION" to open the save menu and "HIDE" to close it: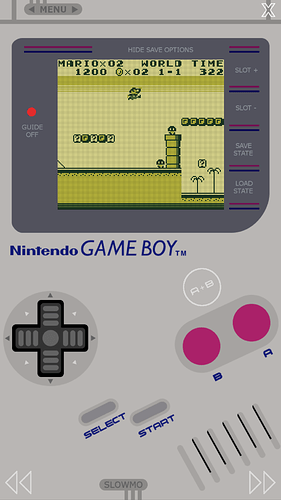 My video settings are:
Aspect ratio: custom
Custom aspect ratio: 1.33
Custom aspect ratio x pos: 221
Custom aspect ratio y pos: 786
Custom aspect ratio width: 640 (4x)
Custom aspect ratio height: 576 (4x)
Integer scale: off
I use it on gambatte, so my optimal settings are:
GB colorization: internal
Internal palette: special1
Color correction: off
Emulated hardware: auto
Use official bootloader: on
I also use "dot" shader, found in handheld shader folder
Download link:
-Normal
(OLD) https://drive.google.com/file/d/0B12zByNbYnR1M0c3QlQ5RDNGMG8/view?usp=drivesdk (NEW)https://drive.google.com/open?id=0B12zByNbYnR1UDBrajQ0YU9La2M
-Big
(OLD) https://drive.google.com/open?id=0B12zByNbYnR1cU1oSDFPVkJmeFU
(NEW)https://drive.google.com/open?id=1LrTGTjkre-z5XqtxCg1hFk93Jk_n8mfl
Hope you enjoy.