Update:
Problem "solved." The problem, it turns out, is caused by the inversion artifacts resulting from black frame insertion, coupled with the 5x vertical scale I was using. There are many different types of inversion patterns, with the two main categories being line-paired and row inversion. To cut to the chase: in order to avoid moire patterns while using BFI with scanlines, you simply have to use an even-numbered vertical integer scale (e.g., 4x, 6x, etc).
More info on LCD inversion artifacts: http://www.techmind.org/lcd/index.html#inversion
Original post:
I'm noticing some strange moire-like patterns when using the magenta/green mask from CRT-Aperture and CRT-Easymode. In theory this should be the best mask pattern, because it takes into account the LCD subpixel structure and results in even spacing of the "phosphors," assuming a normal pixel structure. With black frame insertion enabled and with the brightness cranked up and displaying an all-white screen with scanlines, this results in what looks like moire and/or badly scaled scanlines. Screenshots show that they're pixel-perfect, though, so whatever is going on, it's happening at the sub-pixel level.
I'm wondering if anyone can explain this? Here's an image of the ASUS VG248QE's pixel structure.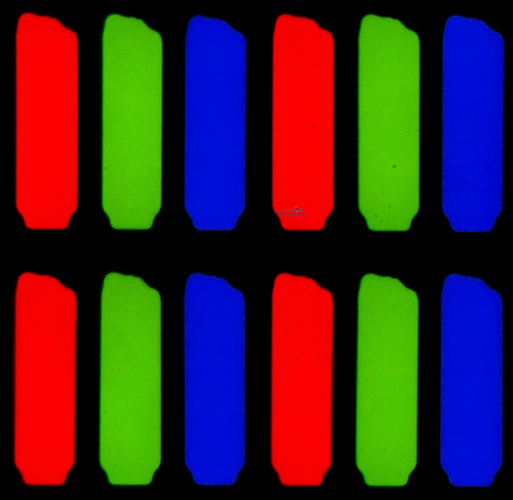 and here's a screenshot showing that the scanlines are actually pixel-perfect: