amazing. hopefully you are keeping each photoshop file for posterity.
These Donkey Kong Arcade Bezels are modified versions of John Merrit's Donkey Kong Bezels with the exception of Donkey Kong II.
You can check out John Merrit's work here - http://bit.ly/2sdkSKw
Credit also goes to Mr. Do.
You can download them here - http://bit.ly/2s3ufx7
I've also included the config ini files I use for scanlines and a curved screen. Please remember before using any of these files to save your old files first.
They all rule. I am far too slow, have now 30 layouts on my Github repository (link above), some of yours already inside. Want to treat them all so that they work platform-independently without dedicated ini file.
Sorry if this is a stupid question but how do I use these in Retroarch? Usually I use a .png and make a .cfg, these are set up differently. Cheers
As far as I know you can use them in Retroarch but I don't know how to assign overlays to switch for each game you play.
"Save game override" feature ?
I just got 1.6.0 of Retroarch yesterday. I've been tinkering with it. Yes, I believe that is a new feature that let's you save in a manner that assigns the settings to just that one particular game.
Tweaked the Donkey Kong bezel here and there.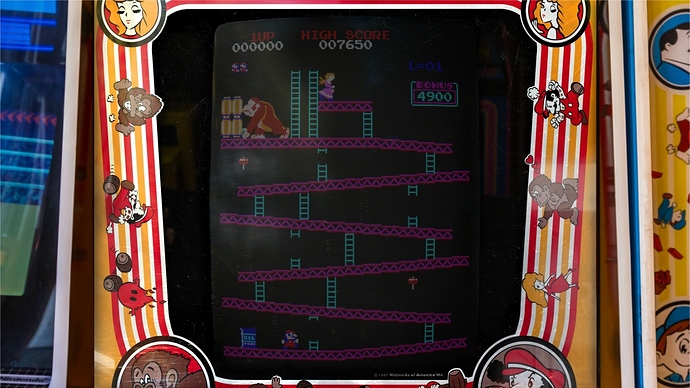 Download it here - http://bit.ly/2swTeco
Beautiful work as always!
Amazing!!! Definitely adds a nice layer of immersion (and nostalgia obviously), I've downloaded them all and applied them to the ones I have.
Hope this isn't a rude question, but do you take requests? Or are you just tackling a list you made, bit by bit? If you do take requests, I'd really like to see Street Fighter III 3rd Strike, Street Fighter Alpha 2 and 3, with the move lists on the size bezels.
Keep up the fantastic work!
These are Mame Arcade Bezels based on the Nintendo VS. System.
Special thanks to Mr. Do
You can download them here - http://bit.ly/2w92bcx
You keep rockin! Great work!
Is there a place where ALL of these are hosted in entirety? Not just packs here and there? Or is it only available by going through the whole thread again and finding each little pack? Just curious if they are all somewhere or not. Thanks.