Thank you for this post. This was fun😁
You're welcome!
Indeed! Looking forward to your continued endeavours in this field.
Greetings @RetroGames4K,
Take a close look at the power bar in your Super Double Dragon screenshot above. Then take a close look at the power bar in my Super Double Dragon screenshot below.
Notice anything?
Yes I know. My power bar is a bit off, I'll see if I can correct it. And I'll try again.

I'll be happy to share my solution for this if you wish as I have previously done so in the Mega Bezel thread when I first noticed it. This is an issue that also affects other SNES games.
Does this also happen on your Sanyo TV or does it look as evenly divided as in my screenshot?
I think it's just the curvature. Also integer scaling helps. Great preset, BTW.
On my Sanyo TV looks divided like on the screenshot, but it's true it's a bit mismatched. Now I've corrected it.
It still looks a little uneven to me. What did you try to do to fix it?
In this case, I don't think it's the curvature as it affected my presets as well and I think disabling curvature was the first thing I tried and that didn't resolve it.
What worked was using Integer Scale and increasing the Integer Scale Offset or %.
You can see here:
The curvature is really messing with the vertical alignment of the mask and the artwork though. I've noticed this in a number of your screenshots @RetroGames4K.
Look at the white box with Billy's portrait, the mask is running diagonally across the left and right sides of the box when it should be in perfect alignment with them.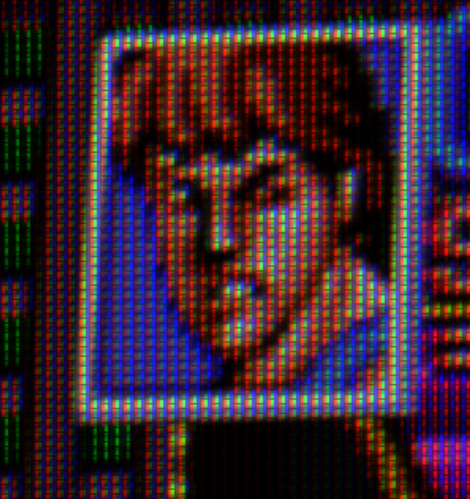 The mask pattern was a bit off, so I had to touch deconvergence and scanlines. But if it's still a bit uneven, is because I realised that I haven't touched Scanline and Mask gamma yet, and the sides look darker. Tonight I will raise mask gamma. As you can see on the image, the mask is a bit behind the pattern because the mask is darker than the vertical lines, so once I raise the mask gamma and make it brighter, is going to align perfectly. I will post another screenshot tonight when I correct it.
I don't think either the mask alignment issue nor the power bar unevenness have anything to do with Scanlines, Mask Gamma or Deconvergence.
It's probably just some flaws inherent in the curvature algorithm. The mask remains uncurved and unwarped, while the content is being curved and warped. This is what's causing them to be misaligned.
In terms of the power bars I think it's just that there needs to be more pixels available to render those fine details, including those of those mask correctly, which is why simply increasing the Integer Scale %, which provides allows the rendering to utilize more pixels resolves it.
So to put it another way, the resolution is too low to render that mask pattern and image correctly at the current viewport scale/size.
You could still try your ideas though, I'm looking forward to seeing your results.
Well it doesn't happen here in this game it's a saturn setting. And it's got the same curve 3D. Look this example.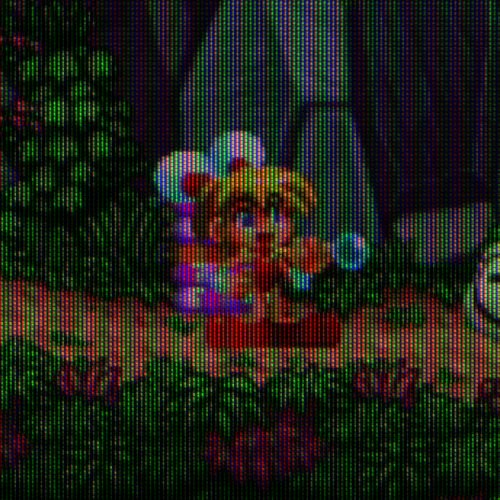 The mask is not behind the pattern. Looks straight. But as I said, I will confirm that tonight to make sure😅
Also my sanyo has that pattern too, also tonight I will make a Photo to the power bars on the CRT, so we can compare. Maybe you are right, but I think it looks the same.
This crop is from the same screenshot with the warped looking portrait box of Billy.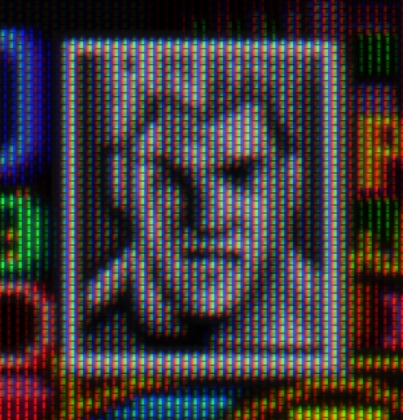 Jimmy's looks relatively fine. This suggests that it's more pronounced on the corners or sides due to the way the warping algorithm works.
What I think is going on is that what the curvature should be trying to simulate is perspective but there's something lacking in the perspective correction algorithm (math).
It might need to be a little more complex for it to work properly.
It wouldn't be surprising if it looks the same on the CRT. If so that would suggest that the TVL is just too low to perfectly render those power bars evenly.
As I said you could be right because I'm not sure. Saturn has another setting. Maybe on the snes has more curvature because maybe I haven't configure it like the saturn, both have the same pattern. I will figure out tonight. This is the same side on the sega saturn and looks straight.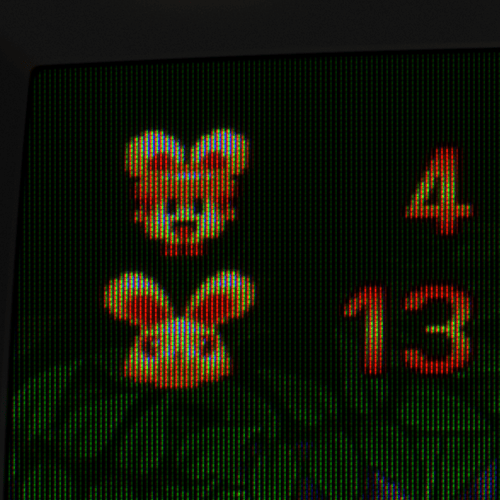 I will try to mess with those tonight and see what it does. Thanks
I thinks is a 300 TVL more or less. My Sanyo CRT picture looks fantastic. So is not that bad

Hi I made some close up Photos to the CRT, here you can see the power bar how it really looks. Also to mention that is emulated on the Sega Dreamcast so I don't know how it looks on a real snes, and the game is not in full screen as you can see, so it's not because of a too low TVL

.
And here with mega bezeI.I had the curvature a bit high before. Now looks better.