ok and what scale/resolution are you using?
I'm curious what happens with a higher TVL, three pixel columns per triad.
In RetroArch settings Integer Scale On. Integer Scale Overscale On, Aspect Ratio Core Provided.
My resolution is 3840 x 2160.
No problem, you can look out for that hot mess later. I think I have some shots that I took already though.
1000TVL (I think)
800TVL (Will verify)
600TVL
Either 800/1000 Layout flipped (will confirm later which is which)
weird, ok. I think this sheds some light on some things, I have to do "work" now, though. I'll get back to this later
Sorry, I should have been clearer: I meant 50% gray with no effects on it. The goal being to see the actual subpixel layout without any mask effects interfering, since that's what we need to know to be able to try and make them evenly spaced.
Okay, no problem. I'll work on that as soon as I get a chance. What about RetroArch Scaling Settings? Should I use Integer Scale On, Integer Scale OverScale On and Core Provided Aspect Ratio?
This is what I got get when I try to take a picture of a 100% White Screen.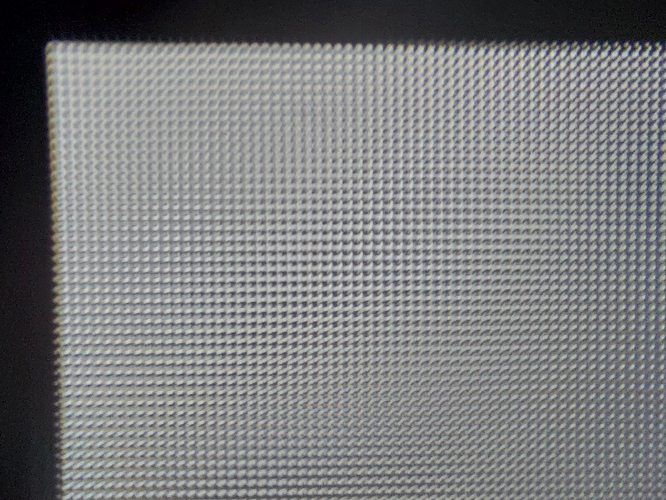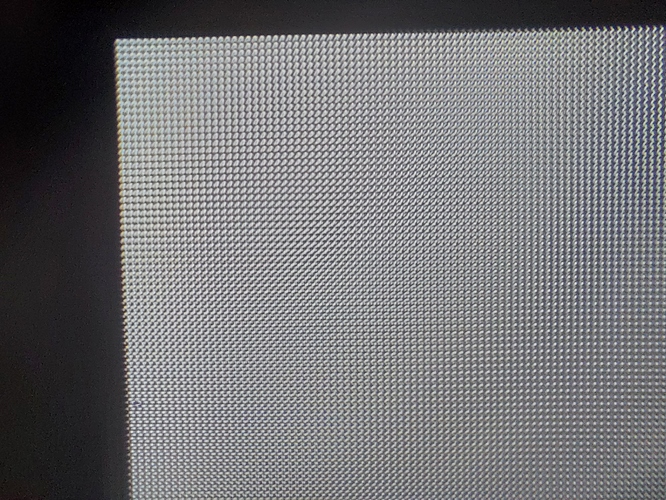 Yep, weird and sad because other than that the image seems perfect from not that far away. Take a browse here to see some real-world examples using my current presets that should also show you what's wrong compared to using the same shaders on a decent IPS panel.
hmm, I guess we're not getting low enough to see the actual subpixels, just a full pixel triad…? That is, are those white pixels lighting up the 3 (or 4?) subs? or just the one white sub?
I'll try a little harder to keep things in focus. I had access to a cellphone tripod but it recently broke. I might be able to pull out another camera and proper tripod though but that might take me a little while to organize so I can't give an ETA on that yet.
no worries at all. In the end, it may not even help, but having a proper idea of where the subs are will at least let us try.
It might be worth it and we would certainly gain in our knowledge and understanding of these things.
Currently using CRT-GUEST-ADVANCE the colours look beautiful but when you examine the phosphor triad, you can see that the red phosphor is slightly larger than the others in some cases or its the same size but there's a black gap adjacent to it that shouldn't be there. Then you might see that red and green look similar but the blue phosphor looks thinner because half of it is being covered by the two red phosphors and the scanline gap adjacent to it.
At least when the colours mix from viewing distance they still mix well and the other OLED qualities sort of make up for the loss of accurate subpixel detail.
I'm thinking that a sort of reverse engineered or hacked solution given the strange characteristics of the technology might provide some sort of improvement even if it's at the lower TVLs.
So I'm wondering if an RGB Mask might translate better than an RGBX mask for example. Or perhaps the Mask Alignment might need to be offset so that the X covers the extra subpixel column but lands where we want it terms of the grill wire pattern. We might have to reorder the colours of the mask because it may no longer be RGB or BGR if this is done. It might be GRB or BRG. Kinda out of the box thinking.
Or maybe some sort of compromise that mixes two neighbouring subpixels like what's done in some of the 1440p Masks. RYCB or something like that. But there's definitely a mismatch taking place horizontally and it's throwing everything off.
RTINGS.com has a pretty dim picture of the subpixel structure of the 55OLEDE6P, and judging from a comment they made on their review of the E8 model, supposedly all four subpixels are never on at the same time, which explains why green is nowhere to be seen. That said, at the very least it appears White is in between Red and Blue, and Green is after Blue. Some of your pics appear to say otherwise, though, so I dunno.
Yeah, I'd seen that one and even made a composite of them in the "OLED subpixels. How do they work?" thread, but I wasn't sure if Cyber's actually reflected what was in those images, e.g. whether the white sub is ever lit outside of HDR, as others have posited, and whether that huge void between the rows is actually there all of the time or if that's part of the anti-burn-in load balancing (i.e., by turning off half of the rows each frame), etc.
This makes a lot of sense because red and blue have the lowest luminance by far compared to green.
Sorry for delayed response not only is the little one keeping us busy we all caught COVID over the last few days. If it doesn't rain it pours!

🤦 We're all fine btw.
So this does sound like a sharpening issue - the mask you're choosing should be RGBX as in 600TVL with a 4K resolution. As it's the last thing the shader does then any kind of ringing/bleeding is most likely being introduced by the TV. It could be Retroarch scaling settings but thats easy to rule out - just use integer scaling.
Go through your TVs options and turn off any image manipulation stuff but primarily sharpening and see if it makes it better.
I am not totally sure that this is a sharpening issue and not a subpixel layout issue.
What we really need, as @hunterk described, is a plain white screen or 50% grey so we can discern what the actual subpixel structure is.
I feel like we've been down this road many times before and always arrive at the same conclusion, but maybe there's something unique to this particular display.
I understand. I just reopened the issue since we now have the ability to do some further first hand testing, which has the potential to bring some sort of innovation or improvement.
I missed this interesting tidbit from the RTINGS review:
---
Update 12/02/2016: With the newest firmware update (04.30.19) there has been the addition of a HDR gaming mode. In this mode the HDR input lag is lower, and should be fine for HDR gaming. Note that although the TV accepts a 4k @ 60Hz @ 4:4:4 + HDR signal, it can't accurately display the chroma subsampling in any HDR mode, even with the 'PC' icon selected. The HDR chroma subsampling looks the same as the B6, visible here .
---
What I've observed with this TV is that while it fails at the subpixel accuracy tests, it still manages to excel at the pixel level and beyond. I hope whoever is reading can understand what I'm saying but it makes sense. If the TV couldn't accurately colour individual pixels, then it would never be good at displaying anything despite its excellent black levels.
So while it spoils the mask appearance from up close and personal, it doesn't seem to have much if any negative effect on the CRT Shader generated image at distances where the mask, "phosphors" and individual RGB subpixels blend and can no longer be seen.
Hello, I have an 65" LG OLED CX connected to a nVidia 1080. HDR is enabled in RetroArch and the TV is also showing that it is receiving an HDR signal. Nevertheless, when selecting any of the Megatron HDR presets I get a super washed out picture with almost no color left (almost black and white). Am I missing something here? Other shaders work without problems.
All fixed and I don't know how.

But now it looks awesome. Especially happy with the MX8000 preset since I also own this.
Thank you for this awesome work!
Are those photos of the shader? Looks amazing. What tv settings and shader settings used?