Edit: Sorry I meant the non-Flat version, NEC_PCEngine-CD
Thank you for having eagle eyes.

I updated the repo with the change.
I don't exactly have Eagle Eyes. I am just trying to go through all of the presets and finding the settings needed to crop the TVs. I wanted to use them and I have a 24" monitor, so they where a little smaller than I liked. The idea of "cropping" them came to me, so I have been changing the settings for a little while.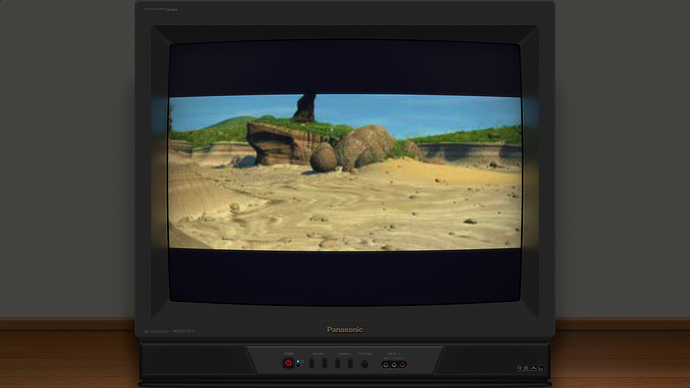 Found the same error with SuperGameboy that PCEngine-CD had with LED.
Good! Thanks again. It's fixed right now!
I was able to finish the cropping of the TV Backgrounds.
Anyone happen to have this happen when loading one of the presets? This was the NEC_TurboGrafx16-[FLAT].slangp preset. I didn't mess with anything yet to try and pinpoint.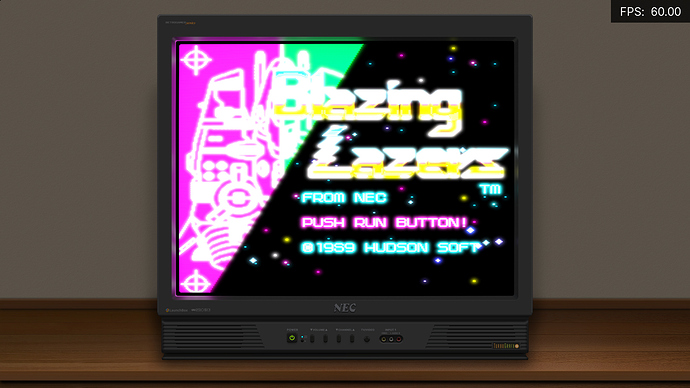 Mine looks fine, but I am thinking it might be the new update for HSM. I haven't updated mine yet. I will update and check again real quick.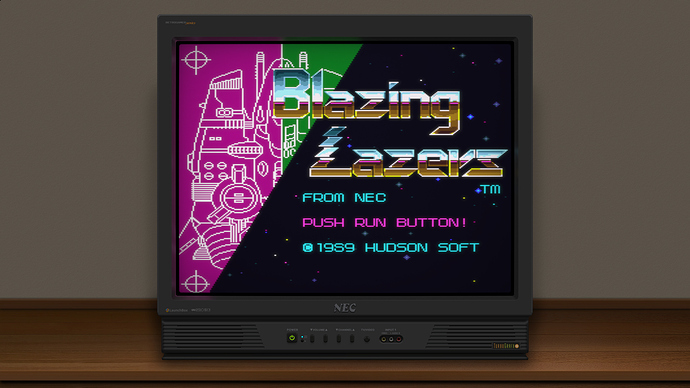 Yes, I haven't updated the repo yet. In addition to Post_CRT, you may still need to adjust the Tube Diffuse to match the new type :
I was going through @HyperspaceMadness 's last release notes looking for that exact thing, I remembered that something had to be changed.
@soqueroeu to give you an idea, my monitor + your background = 11". My monitor + your background + cropping = 12.5", this is based on the NES background.
Soqueroeu - Mega Bezel TV Backgrounds
Compatibility UpdateV 0.9.103 2022-02-15 Rev 1
Hello everyone!
I just updated the repo. All presets received changes to accompany the Mega Bezel Pack parameter changes, announced by @HyperspaceMadness in THIS POST.
The changes include only the three items below. If you want to modify your presets yourself, it's quite simple. Use notepad++ and do a search and replace for:
OLD:
HSM_TUBE_DIFFUSE_IMAGE_ON = "1.000000"
post_br = "120.000000"
post_br = "90.000000"

---
NEW:
HSM_TUBE_DIFFUSE_MODE = "1.000000"
post_br = "1.200000"
post_br = "0.900000"

With this change, you can now update your HSM Shader pack.

Hi All, I've been doing my first tests with CyberLab presets and my backgrounds.
Here we have CyberLab__RGB-Sharp__1080p__PVM-Edition__ADV
I am very happy with the result. Congratulations to our friend @Cyber for his excellent work with the shader preset?
Thank you very much @soqueroeu! I appreciate the appreciation! Our works seem to complement each other very well!
@soqueroeu your updated presets are in your V2 repo, right ? Maybe you should update the FP because it still links to the original repo.
That happened to me too early this morning.
Thanks for reporting guys!
I'm fixing it now.
Have you seen these videos of your TV-Backgrounds in action @soqueroeu?