Hello everyone! I'd like to share a new project @Papashine, @Dreamstate and I will be working on. We've decided to focus on creating a special series of overlays focusing on the arcade artwork produced by Universal for their own games (additional series planned to come). These games weren't as well known as the giants produced by Atari and Taito, etc. But they had some really beautiful artwork and a unique cabinet design that had a mid-marquee, or back glass, with additional backlighting and artwork that blended well with the bezel art.
We will be using the highest quality artwork we can find, including some of the work shared by Comboman in the Mameworld forums. We experimented with some different approaches to incorporating the mid-marquee into the overlay and I think we've come up with a good compromise that allows us to retain the spirit of the original cabinet while still making as much use of the screen area as possible and maintaining the integrity of the artwork.
We're breaking this up into it's own topic to keep everything related to this series in one place and increase visibility of the project.
Thanks to everyone who has contributed to these overlays (both ideas and labor) as well as those who restored and made available this beautiful artwork to the community.
Here is a great shot of a number of Universal game cabinets shared by Comboman: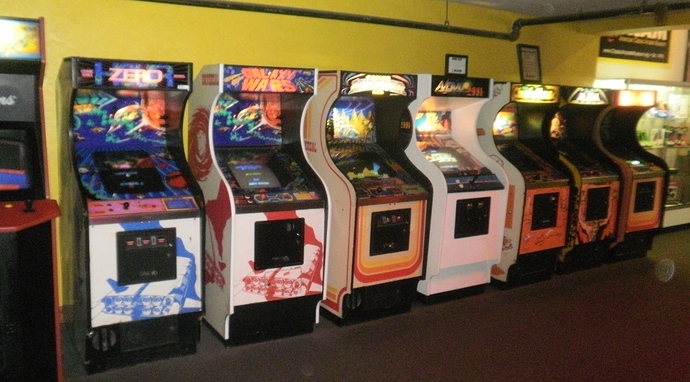 We do plan to make available both Retroarch and MAME LAY file formats for all these overlays.
The screenshots provided are using @HyperspaceMadness's Mega Bezel Reflection Shader. You can find that in his topic here: HSM Mega Bezel Reflection Shader!
I've started hosting them in a new directory on my cloud drive here: