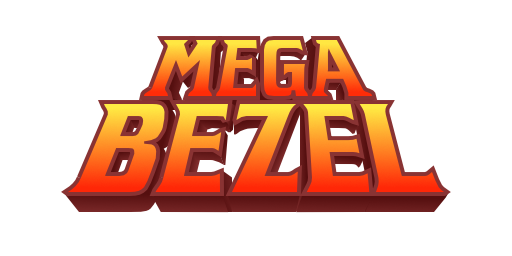 This thread is about the HSM Mega Bezel Reflection shader, so you can tell me what's working for you and what could be better
The shader is in an in-progress alpha/beta state, and there are still some changes to come.
Try playing with the shader parameters to tweak the look, as most things are adjustable for personal taste.
These CRT Shaders currently integrated:
Guest-Venom
Guest-Sm
Easymode
LCD Grid V2
Newpixie
All Presets Include Color Correction (Grade) from Dogway!
---
Some Examples
Mega Bezel Night Preset with awesome background from @duimon
Automatic Vertical Scanlines on Vertical Games in Guest-Dr-Venom, Guest-SM & Easymode
3D Tilt
Glass Preset
N64 Preset
Debug Scaling Info
Negative Cropping (like Overscan)
Downres Sampling
Fake Scanlines for high res core
De-Dithering with MDAPT*
Scale-FX Image Smoothing
Vector Preset
SegaCD Full Motion Video Preset
Adds even more de-dithering and blur, looks blurry but more appealing than the raw pixels for this content
Black Tiger!
Mario!
---
Things the shader does:
Scaling Management:
Scale the tube/screen to be the size you want on the monitor, including adjustable integer scale
Automatic aspect ratio, including horizontal vs vertical aspect ratio for vertical games
Scanline direction automatically driven in Guest-Dr-Venom, Guest-SM, Easymode
Downsampling controls to sample the core image as if it was lower resolution
Integer scale on 1 or 2 axes
Crop the edges of the core image to get rid of ugly bits which were never meant to be seen
Bezel & Reflection:
Generates black ring, bezel and frame with shading around the tube area
Dynamic blurred reflections on top of the bezel from the CRT image
Optional background image under the reflection
Tube Glass Image
Top Image which can go on top of everything similar to a retroarch overlay
Screen distortion either 2D or 3D geometric projection from Royale
Glass Border version which shows a blurred version of the screen outside of the screen without any Bezel
Background and Tube Vignette
---
Here's a link to the package
https://1drv.ms/u/s!AlJgyN_LYasyoIxcS8s6B2gH947dQg?e=1M2dzs
---
Installation Instructions
You MUST use Retroarch Version 1.9.0 or Later (It will fail to load on earlier versions)
If you have previous versions of the Mega Bezel installed:

Delete shaders/shaders_slang/bezel/shaders/HyperspaceMadness
Delete all hsm presets from shaders/shaders_slang/bezel

Inside the .zip is a shaders folder, drop this shaders folder directly over your existing one and everything will go into the right place
Set video driver to Vulcan (It will run in GLCore but seems 2x faster in Vulcan)
Set video aspect ratio to your monitor aspect ratio e.g. 16:9
Set integer scale to OFF
Load a preset in the shaders menu, mega bezel shaders are found in shaders_slang/bezel
---
ALPHA DEVELOPMENT:
If you want to follow the raw bleeding edge of development or want an older version you can take a look at my github repo:
Please note that if you use the shader from my github repo you also need to use the alpha version of retroarch from the repo, (one of the nightly retroarch builds will likely work as well).
---
Thanks to the shader writers who's shaders are used by the Mega Bezel:
Guest.r - Guest-Dr-Venom, Guest-SM
Easymode
Dogway - Grade Color Correction
Trogglemonkey - CRT Royale
Mattias - Newpixie
Aliaspider - GTU
Sp00kyFox - MDAPT & ScaleFX
CGCW - LCD Grid
Hunterk for porting a number of these!
Thanks to @Duimon for all his awesome graphics which he has made to be used with this shader for the different console systems, his work can be found here Duimon - HSM Reflection Shader Graphics - Feedback and Updates
And a big thanks to @hunterk who helped me with his expertise along the way!
---
The last survey was completed Dec 14 2020, you should be able to see the results here if you're interested https://forms.gle/sAk32pgS2nbq4GTD7