This thread is about two shaders, namely crt-guest-sm and crt-guest-advanced. The first part of the thread is about crt-guest-sm, it's latest versions are available in the official libretro repositories.
The end of the thread contains updates and feedback on my continued development of the later crt-guest-advanced (former crt-guest-dr-venom(2)) - slang shaders.
The latest crt-guest-advanced versions and presets are now in the official libretro shaders/shaders_slang/crt/ folder.
Anyway, get the former official version of crt-guest-advanced here (2022-07-27- release_1):
https://mega.nz/file/t4JlzISC#8FqqbBnVexxQDhk-o6THW_6US32zSun3cwfws7m2EbU
Newest version (12.02.2023):
https://mega.nz/file/xgBziJpY#hekDPzCFYghaNmqlGMfIzHRAgymGGoCzI7QBdDiy6KU
Prior version still containing hires, ntsc-fast presets, dr-venom and SM versions:
https://mega.nz/file/JsZ12Y6D#ERhg_0ZZhtl3WahqvLAlg_5DlE3z5ZZ6WGweaE34sV8
Latest changelogs:
Double internal resolution support added (i.e. 224.0 -> 448.0), replaces 240p, which can be respectively achieved with further internal resolution dividers.
Performance optimizations, up to 10% speed boost
Compatibility mode added to fastest version, should now work with D3D drivers
Substractive options added to bloom passes for better shaping of bloom and halation effect
Stronger filtering mode with interlaced mode implemented (standard, fast versions)
"mclip" parameter now defaults 0.0
added a new option to clean up / adjust mask-scanline interaction in brighter tones when mask effects is too dominant between two of them
mask boost feature is now 'edge' aware
some scanline parameter range adjustments
mask bloom overhaul, some minor changes
scanline saturation has now 2 operating modes (one for positive, other for negative values), current presets aren't affected by changes.
substractive sharpness parameter value increased to 2.0 (standard, fast, fastest versions), the filtering with this mode is improved.
Mask gamma now affects ordinary bloom, contrast improvements.
Magic Glow added, mask 2&6 fixes for slotmask alignment.
Magic Glow improvements, mask control.
Slotmask interaction mitigation implemented.
Brightness adjustments for interlaced modes.
Chroma scaling options added (ntsc), maximum sharpness parameters added to HD and ntsc versions.
slotmask automatic width implemented, support for 16-size luts added
mask zoom feature added
mask zoom overhaul
much better no-scanline mode
mask "shrink" implementation, more fixes
Base Mask strength feature added
ShadowMask options changed, new NTSC phase mode added
New functionality under 'negative' mask bloom parameter. Fine bloom sampling option added.
Mask strength controls for bloom and halation added.
Options for thin dark scanlines, per-channel gamma correction and negative bloom distribution added.
New functionality "Clip Saturated Color Beams" added.
Smart Sharpen Scanlines feature added. New 'negative' mask bloom.
Scanline saturation functionality overhaul.
Lite version added, grade shader update.
Mask bloom added to the fastest version.
Mask Zoom sharpen option added.
VGA Single/Double scan mode added.
Mask Zoom and Clip Beams added to the fastest version.
Fastest version FF mode fix.
Fastest version overhaul, NTSC version improvements.
Deblur added to NTSC version.
NTSC version scaler support added, various improvements.
High Resolution Scanlines option added to HD and NTSC versions.
High Resolution Scanlines added to standard and fast versions. Fine Glow Sampling added.
Highlights:
mask boost and new mask bloom
new and better deconvergence, bloom, new masks…
great ntsc features
new vignette, corner and border implementations
nicer lut colors
ntsc-fast and hd versions included
more features, many other tweaks and smaller improvements
Here is an older version before some overhaul, for comparison, convenience etc…(2022-02-01-r1)
https://mega.nz/file/YkIwiJRJ#-_r40CXGhaL1yuhZqO8uL7PjI5vWigdmrc-N8bVaOvg
And a link to the (newest) ntsc-adaptive slang shaders, which go into the "ntsc/shaders/ntsc-adaptive" folder:
https://mega.nz/file/wpQBFQiY#Eqs9yIzHtd96t-_woH0kKRwBjmeFy2Z5R8nOAUUwwBc
Current ReShade versions ported by @DevilSingh:
@DevilSingh's ReShade port of crt-guest-dr-venom (with mask options updated)
https://mega.nz/file/NlY2HajS#15tz7rifdJ9y3ygRZ5PyHKn7QGIH2aviEw5t0iMUHYs
@DevilSingh's ReShade port of crt-guest-advanced (with mask options updated)
https://mega.nz/file/s9B2gLID#cNN5v83P7DYiTxc4ttyYCktq0HDEAQyC2axxhNGf9BI
crt-guest-sm:
Nesguy's post brought me to an idea, for a new shader look. Been working on it this evening and would like some feedback.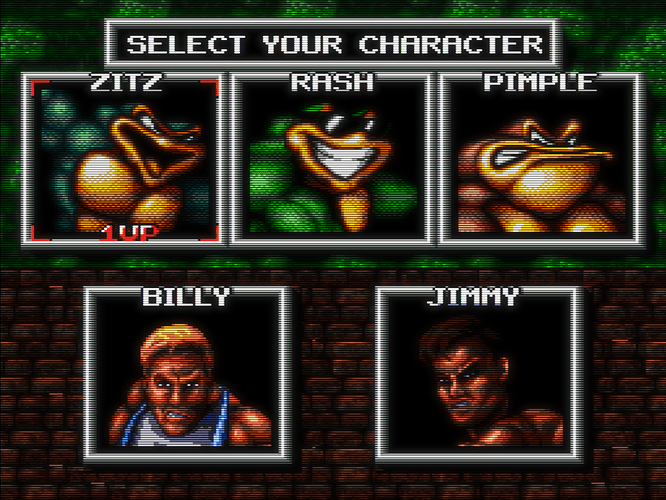 Do you think it's a good addition to the shader (crt-guest-dr.-venom)?