So… a few things have happened in the last few days.
I am using some great new monitors.

The private alpha version of the shader has got some new cool features.

The MAME (Current) core has been updated to 0.234)
#1 means I have to adjust a few images that I added contrast to. (It feels like the need was actually a hardware deficiency not a graphical one.)
#2 means I can play with some cool new features. Including the ability to change the screen color palette to grayscale, amber, or green.
#3 means that the PDP-1 MAME machine, can benefit from a request I made to the developers that was granted in 0.234… the PDP-1 now has a SL hash XML, and Spacewar! can be loaded using the standard SL method instead of the command line.

Here's a new WIP shot using the 0.234 core.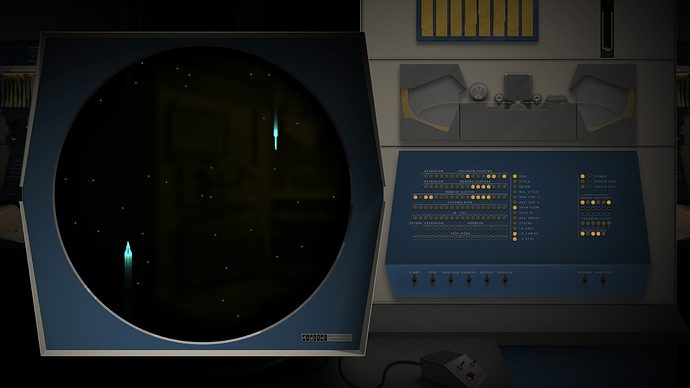 A couple things have changed here. I lowered the contrast and increased the brightness on the monitor. (I think it looks more "front-lit" as I intended.)
There is no longer any need for me to do a custom compile… After turning the screen to grayscale, I have complete control of the screen and lamp colors using multiplied overlay layers.
The Cabinet glass layer is now a full screen image, but applied to only one screen. (The monitor.) I am using the Decal layer for the other (The panel.) in the same way.
After watching a few videos of the system in action I saw that the screen actually had a Cyan-ish cast to it, and was pretty bright.
I changed the color of my overlay layer and, instead of increasing the brightness, increased the glow and persistence. (Brightness would have effected everything, the glow around the lamps is hidden because the circles are transparency that let a portion of the square lamp show through.)
I think it all looks better than ever!