So all presets packs have to placed in Mega_Bezel_Community_Collections folder now? I didn't really understand what HSM was talking about in the first bullet point.
Precisely! It's basically a name change of the Mega_Bezel_Community folder to the Mega_Bezel_Community_Collections folder.
All relevant paths and documentation should also be updated to maintain compatibility.
For a completely seamless transition you can use an app like Notepad++ which has a batch Find & Replace function to replace all instances of the old folder string with the new one in the RetroArch/Shaders folder as well as the RetroArch/Config folder.
This will preserve your existing Global, Game, Directory, Core and Custom User Created Presets as well.
That's correct, this has been the case for a while the only thing which has changed is the name of the folder.
Although since the paths inside the presets are relative it technically does not matter what the name is.
But for consistency we wanted to have a standard name for it.
Cheers to @HyperspaceMadness, the unaware replicants savior!
Looking at the recent Blade Runner "so called" Remaster… …I think we have the best possible version with Retroarch + ScummVM + Mega Bezel Reflection Shader!
What a great atmosphere, really a masterpiece.
Here's the settings from captures:
#reference "Mega_Bezel/Presets/Base_CRT_Presets_DREZ/MBZ__0__SMOOTH-ADV__DREZ-480p__GDV-NTSC.slangp"
GAMMA_INPUT = "2.200000"
gamma_out = "2.200000"
HSM_AMBIENT_LIGHTING_OPACITY = "100.000000"
HSM_INT_SCALE_MODE = "1.000000"
HSM_CRT_CURVATURE_SCALE = "0.000000"
HSM_TUBE_DIFFUSE_MODE = "1.000000"
HSM_TUBE_DIFFUSE_IMAGE_BRIGHTNESS = "10.000000"
HSM_TUBE_EMPTY_THICKNESS = "160.000000"
HSM_TUBE_BLACK_EDGE_THICKNESS = "220.000000"
HSM_BZL_WIDTH = "200.000000"
HSM_FRM_OPACITY = "95.000000"
HSM_FRM_TEXTURE_BLEND_MODE = "0.000000"
HSM_FRM_THICKNESS = "2000.000000"
HSM_VIEWPORT_VIGNETTE_OPACITY = "100.000000"
bloom = "0.100000"
gsl = "1.000000"
h_sharp = "9.000000"
s_sharp = "1.000000"
smart_ei = "0.050000"
shadowMask = "7.000000"
GDV_NOISE_ON = "1.000000"
addnoised = "0.100000"
@Cyber are you a Wizard??? Honestly, that's an amazing tidbit for Notepad++ that I've never had to look at using. Thanks!
Hahaha! You're welcome @Neofuuma but I'm just learning from the best!
Buck Rogers is pretty fun with the glass preset and some adjustments to scale the reflection:
GLASS preset without Cropping
Cropping Left side 15%
Scaling the Reflection
HSM_CROP_PERCENT_LEFT = "15.30"
HSM_SCREEN_REFLECTION_SCALE = "180.000000"

Also kind of works with Choplifter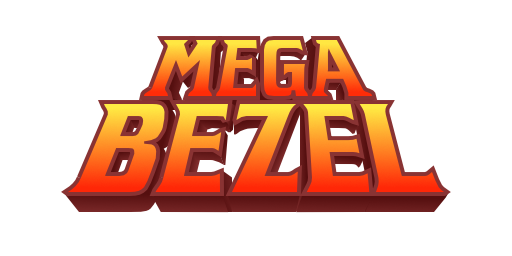 The Mega Bezel V1 is here!!!
Mega Bezel is updated to V 1.0.001 2022-06-24 Rev 1
Changes:
Now in the libretro repo, so can be accessed by doing update shaders from within Retroarch!

It has been 920 days since your first post on this thread my friend.
That is 658 weekdays and 262 weekend days.
I'm not going to try and guess how many hours you put in during that time.

A milestone in the world of retro gaming. Congratulations!
Congrats! I second Duimon on this, has been a long road, but the results are just remarkable!
I'll third these Congrats to you @HyperspaceMadness! Your tireless efforts have benefited soooo many people. Thank you for helping make retro gaming even more special.
Congratulations and inumerable thanks @HyperspaceMadness. This is truly a milestone in gaming history and preservation and a beautiful marriage of art and technology at that!

Hi, @HyperspaceMadness I'm on a GTX 980 Strix and with this update @ 4k I am getting some performance degradation. I figured out it had something to do with noise samples (off improves the FPS). I also notice that the reflection now takes into account scanlines, etc. Is there a way for me to tweak this to optimize performance? It looks really cool but it's not in my budget to upgrade my card yet

Really nice release, though. Thanks again for maintaining this

I'll have to take a look and see what the performance issue might be, you're using the glass preset right? Ntsc version or no? I think the new ntsc will require more power at 4k since it has more passes at viewport res.
Hmm I don't think I changed anything in the reflection code in this last update, or recently.
I'll have to see what's causing the performance hit, I wasn't really expecting any with the kind of changes I put in, other than the new NTSC
Just to have clarity. What is the correct path (name) for the "examples" folder?

Hmm perhaps something got named wrong. It should be HSM_Mega_Bezel_Examples.
I'll check the package and get it fixed if it's wrong
Please give me a couple of days to reply; I'm busy at the moment

Congratz!! Thanks for this project!



Congratulations for this remarkable work @HyperspaceMadness @Duimon And well on all the people who make this project live
a new area of emulation is open thanks to you!
however I am lost how should I rearrange the files? can you with several screenshots show me how to rearrange that?