Looks great man, thanks for the setup! Wish I had a capable PC to test it out
Out of intetest what are the specs of your PC
The shader is not demanding at all, anything capable of turning on should work. In any case, there's also the fast version, for low end specs.
i7 5. Gen, 8 GB RAM, no extra GPU. Pretty good for an 12-13 inch Full HD Laptop from 2015, could even run Overwatch on it

I'll look if I can get hands on a better rig. Btw, I don't know if it's just in contrast between the image an the white background of the forum, but almost all the example images in general look not so bright (IMHO). Like if you compare your image with the real crt output image, you have more brightness on the crt tv.
@PLAYCUBE You might want to pump up some of these sharpness settings a bit and lower some of the others, like Halation, Glow and Bloom if you want a clearer, more in focus looking picture that's closer to the CRT.
This could be as a result of different things. When you use full masks and scanlines especially, the image appears darker as its scaled down in size so it's possible that the same presets will look brighter once full screen. Also, these are GPU screenshots as opposed to a photograph taken by a camera of a screen, there's no ISO or exposure settings here. It's possible that the CRT pictures are overexposed.
In addition to that due to it not being in perfect focus, as well as owing to compression and other artifacts the darkening impact of the scanlines is diminished.
There are actually some shaders which should run fine on your setup. There's GDV-Mini as well as the new
Or even Sony Megatron Color Video Monitor, which I'd available here:
GDV-Mini is also available via HSM Mega Bezel Reflection Shader using the Potato Base Presets.
These pics seem useful. You can let me know if you disagree and I'll delete.
Fantastic finds - so what is the super low resolution screen from? I presume some kind of portable TV from the 80s or 90s?
Love that PVM too - definitely for CRT gaming on the go. Amazing.
It's mentioned in the thread, it's a 1.5" (!) Panasonic CT-101.
Here's another gallery of a bigger portable, a massive 5" Portavision TV 16-108.

https://imgur.com/gallery/kFhYnFh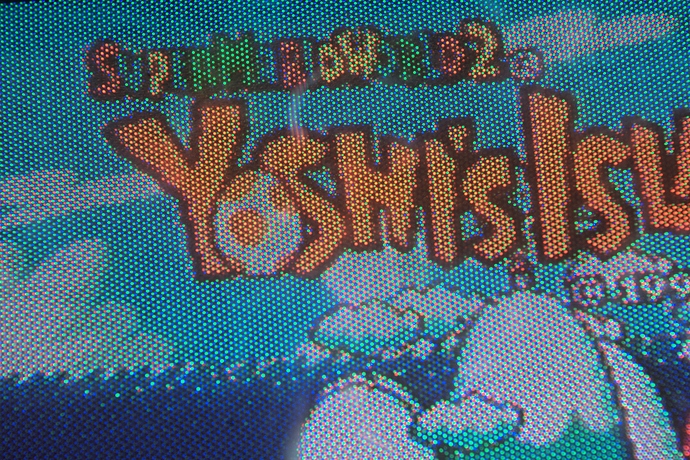 Hi, I finally got around to adjusting the focus, but it had no effect on the scanlines. It literally just changed how blurry the image was similar to how a camera lens focus works. Not a big deal, but interesting how it behaves differently depending on the chassis
I forgot what was the exact situation, did you not even see scanlines in dark areas? You could also try lowering brightness till the image is dark, then adjusting the other knob (G2, "Screen") , then adjust contrast. This can potentially increase sharpness as well. I did this on my 17" for good effect, but it was in bad shape to begin with. On my 20" I couldn't raise G2 a lot before some interference started to appear on the screen.
I have scanlines in dark areas, but the image seems very bloomy in bright areas. I quite like the image to be fair, but would like just a touch more sharpness. I saw your photos from before and after you adjusted your tv and i like what you achieved so i played with the focus knob. I also turned the screen knob and some purple lines flashed up briefly so i left it alone. I might have another go at the screen knob
Hi guys, here's a DAEWOO 14 inch CRT in action, which my brother-in-law found in the cellar. He plugged in a PlayStation 3 and is using RetroArch. I hope the photos came out good, I think this TV uses a slotmask. Here is the link:
Great pics! Is there any chance of getting some close up shots so we can see the phosphor patterns? Also you should be able to screenshot your phone screen showing the picture youve taken of the CRT and post the screen grab directly on here too rather than having to go through Imgur.
Thank you very much, I will try a second round of photos next time I go to my brother in law's house, the TV is his, this weekend we were with my family as a guest, he had this TV in the cellar and I convinced him to put it back into play. As soon as I have new material I will share it with you with great pleasure, perhaps using the system you recommended.
Just get your wife or sister to steal it for you - it doesnt matter if it causes family strife - CRTs come first.
Just be aware that PS3 connection always means interlaced output.
MajorPainCactus I don't think he has enough money for a divorce, lol

Jamirus actually saw something strange in the reproduction of the images, but we had nothing else to attack, and luckily he had previously installed a version of RetroArch inside the hard disk
These are some useful looking shots!