@Dreamstate, how about this, tick any boxes?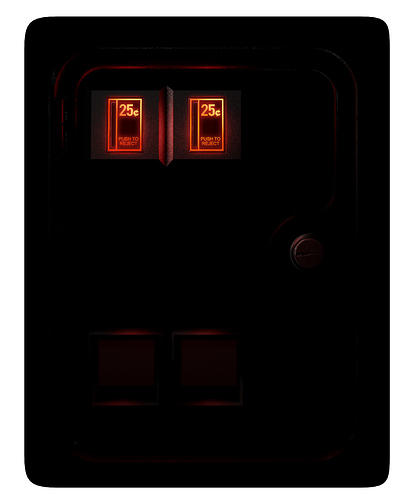 …and at the risk of over-posting today!.. How do we feel about this kind of treatment for the coin slot lights going forward; brighter and richer? just did this in photoshop - can supply a layer above the door so this can remain separate while grading the door down to match your overlay.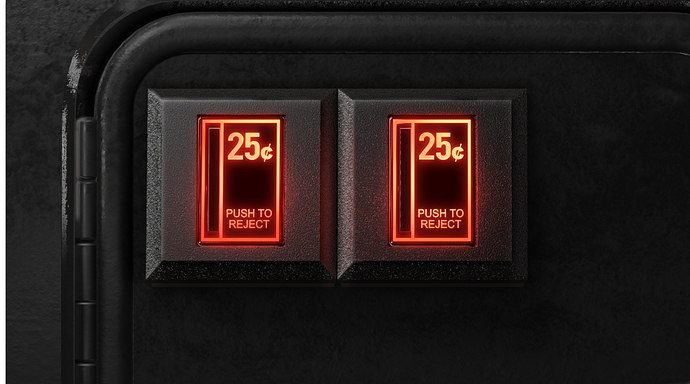 I think that looks better @PapaShine. I can always dial it down easily if I want to, the subtle glow effect there is harder to achieve in PS I think.
These look really good! Thank you!
thanks @ArsInvictus - Yeah, looking at it again now it's clearly better! much, much happier with that - I'll work through what i've already uploaded and re-supply as PSDs with all the door lighting variations and a top LED/light glow later this week.
Yes. Understatement for sure. I tried everything. 3d illumination just works WAY better. Those clear plastic slots are all I needed really as a base. If you can offer this alternative in your other slots for the rest of the cabs going forward I think It will save me major time and I'm sure people will like a bit more illumination on them. I think it makes them really pop with realism.
Absolutely! - though I didn't use/see the ref you sent me before doing it, looking at them I think we're clearly on the same page with what you're after - very glad you pushed me to look at the lighting again! - this kind of work really needs one to take a step back, and look with fresh eyes to see if it's working - I've always found that lit coin button strangely satisfying, almost tempted to print that out and frame it on the wall!

very cool images. i'm curious what the intended use is. are these going to be 3D printed for building cabs?
Williams/Bailey style Coin Door - 4k and 8k Ready
This can be Found on Classics like Robotron and Defender and its available as a single PSD with 2 lighting variations and some extra coin slot light layers so you can grade the door and light separately to taste. Also, I've restored the original doors logo plate, most cabs can be found with this missing as it was one of the first things to be stolen from them, this would have been how it should have appeared straight off the factory floor.
Low Light: a soft diffused look: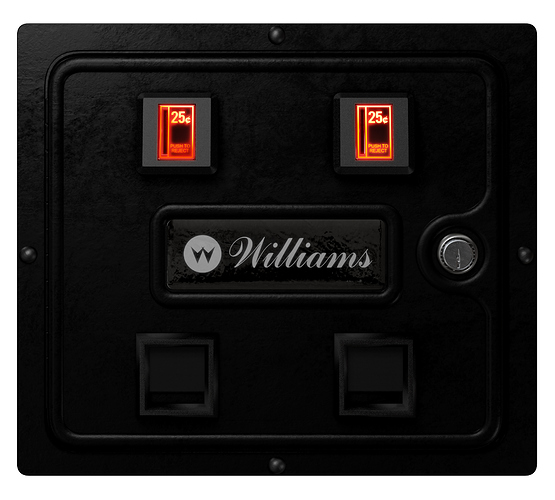 Natural Light: much brighter and less diffused light shadows: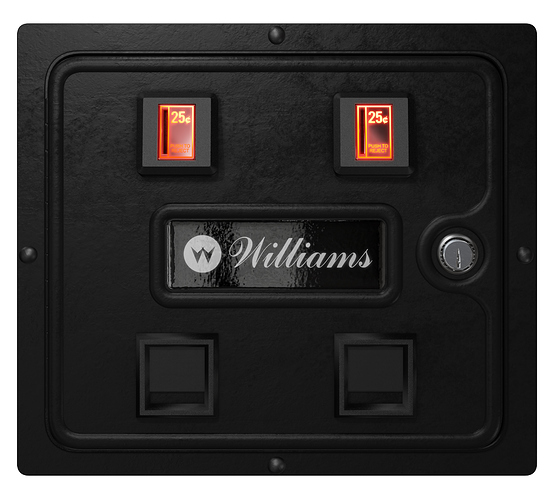 High Res files available HERE
Thanks very much, glad you like them! These are actually being produced as art assets to include in Vertical overlay art for mame/emulation such as the ones from @ArsInvictus, @Dreamstate and more - I'm making them available so anyone can use them in their work and hopefully have a more authentic element to add some extra detail.
You can see more of how these will be used here and here, well worth a look

Well, damn, you've outdone yourself on this one @PapaShine. Thank you so much!!
Oh wow. That's very cool.

So, the cabs will feature a longer screen that includes a virtual bezel, complete with the coin doors, etc?
I suppose the advantage is that you can switch looks on the fly to suit the specific cab you want…
Yes indeed, it is very cool - on the right size screen, 40"+ it's as close to the feeling of the original cabs I've ever had, sometimes better in fact, As your probably know, allot of games got a raw deal being swapped out of other cabs by arcades and many people didn't get to see the original presentation/art, with these overlays I feel like for the first time in decades of using mame I now have hundreds of arcade machine's, not just a bunch of emulated games on a PC.
Hope you can give it a try!
Thanks for posting @Dreamstate Those pictures speak for themselves! looks great - you didn't waste much time! How was the coin slot light levels btw, where the options on the PSD Suitable to get what you wanted?
UPDATE: Italian Zaccaria Coin door - 4k and 8k Ready
Now updated with a 'Flat' camera view in 2 light variations with separate coin slot light layers for artist to grade separately/to taste: @Dreamstate, let me know if the new layers are working for you

; don't want to go too far with new doors if you have any feedback; @Briball hope these are good for your needs too. Original ones are still available too.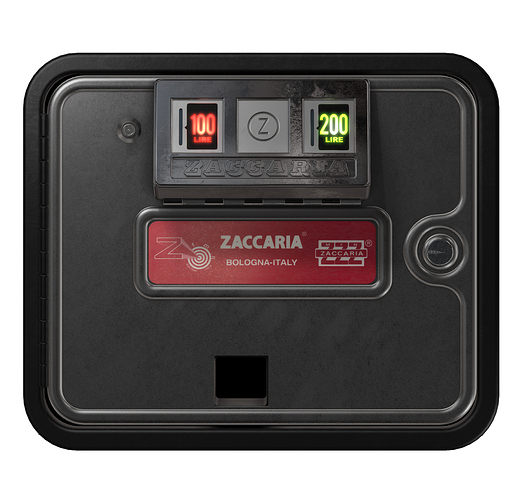 New PSD available HERE
I'm enjoying my holiday and these coin doors are looking just great. And from what I can see perfect. Can't wait to add them to my overlays when I get back.
I noticed that the Williams doors had several different logos, I like this and the one with the red squares, I think that was more the Williams/Bally one.
Think we will have to move stuff up just to show these coin doors off more.

Ah, lovely, glad your having a good time @Briball
Yes sure, williams did use a few different door logos and configurations too - some seem to have replacements over the 80's with I guess the latest model when the originals broke too. I'll be working on the main ones and then offer some alternatives once I have a good base for everyone but a logo swap out is pretty easy - i drew that one from scratch in illustrator in about 15 minutes.
Enjoy your holiday - look forward to seeing how these fit into your overlays when you're back!
The doors are perfect sir and so far If I need to alter them in some small way it's no imposition that's for sure since I'm working with a high quality base. I've sent you a pm with a grab bag of reference I've come across.